'Big Hero 6' Trailer #2: Disney's First Animated Marvel Movie Suits Up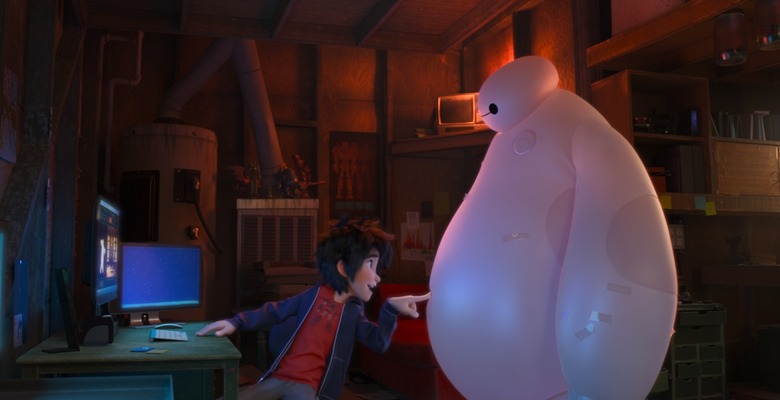 As if Disney Animation weren't doing well enough already, this fall sees them joining forces with Marvel for the very first time. Big Hero 6 tells the story of young robotics prodigy Hiro (voiced by Ryan Potter), who assembles a ragtag team of superheroes to save his town of San Fransokyo.
The first trailer was basically just a clip, showing Hiro trying to squeeze his puffy robot pal Baymax into an Iron Man-style suit. But today, we have a new Big Hero 6 trailer that teases a little more of the action that awaits — including a brief glimpse of the villain. Check it out after the jump.
Like Disney's other recent successes Frozen and Wreck-It Ralph, Big Hero 6 seems to hit right in that all-ages sweet spot. It looks cute and silly enough for kids, but it's not so dumbed-down that adults can't enjoy it, too. In any case, the combined powers of the Disney and Marvel brands basically guarantees that this one is gonna be a smash hit.
Directed by Don Hall and Chris Williams, Big Hero 6 lands in theaters November 7. Scott Adsit, Jamie Chung, T.J. Miller, Genesis Rodriguez, Damon Wayans Jr., Maya Rudolph, Daniel Henney, James Cromwell, and Alan Tudyk are also among the voice cast.
With all the heart and humor audiences expect from Walt Disney Animation Studios, "Big Hero 6" is an action-packed comedy-adventure about robotics prodigy Hiro Hamada, who learns to harness his genius—thanks to his brilliant brother Tadashi and their like-minded friends: adrenaline junkie Go Go Tamago, neatnik Wasabi, chemistry whiz Honey Lemon and fanboy Fred. When a devastating turn of events catapults them into the midst of a dangerous plot unfolding in the streets of San Fransokyo, Hiro turns to his closest companion—a robot named Baymax—and transforms the group into a band of high-tech heroes determined to solve the mystery. Inspired by the Marvel comics of the same name, and featuring comic-book style action, "Big Hero 6" is directed by Don Hall ("Winnie the Pooh") and Chris Williams ("Bolt"), and produced by Roy Conli ("Tangled")