'Paradise Lost' Teaser: Benicio Del Toro Is Pablo Escobar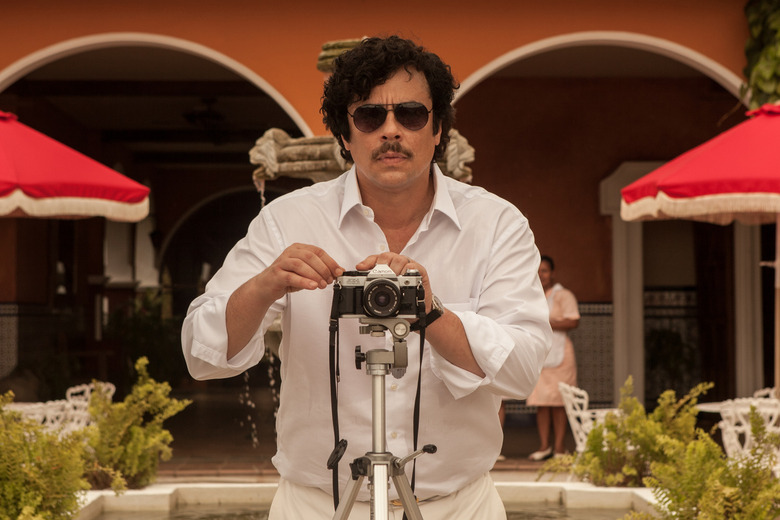 There are several Pablo Escobar projects in the works at the moment, including a movie from Brad Furman and a TV show from Netflix. But the first one out of the gate is the one that's not really a Pablo Escobar project per se.
Directed by Andrea Di Stefano, Paradise Lost centers on a young American surfer named Nick (Josh Hutcherson) who falls for a Colombian woman named Maria (Claudia Traisac). Their romantic idyll falls apart when she introduces him to her uncle, Pablo Escobar (Benecio del Toro). The first Paradise Lost teaser has just dropped, and you can watch it after the jump.
The brief tease is tense and intriguing, and Hutcherson and del Toro seem to be putting in some solid work as usual. However, there's not much at this point to sell the Escobar angle. The famous name is bound to draw some attention to the project, but in the trailer the character just comes off like a generic movie drug lord.
True, Paradise Lost doesn't really bill itself as an Escobar biopic or make any claims about being an accurate biography. (Though it is reportedly "based on true events.") And a 30-second ad will necessarily leave out a lot of good stuff. Hopefully when the movie actually comes out, we'll see that Di Stefano has taken full advantage of this fascinating figure.
Paradise Lost doesn't have a U.S. release date yet, but it opens this fall in Europe.
Young surfer Nick thinks all his dreams have come true when he goes to visit his brother in Colombia. Against an idyllic backdrop of blue lagoons and white beaches he falls madly in love with a beautiful Colombian girl called Maria. It all seems perfect until he meets her uncle, one Pablo Escobar.