'The Strange Color Of Your Body's Tears' Trailer: A Mind-Trip Of Light And Sound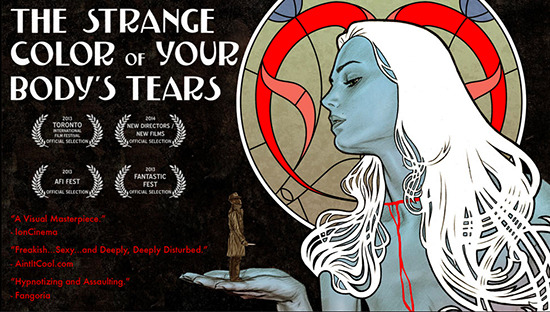 There are all manner of films out there, and The Strange Color of Your Body's Tears is going to satisfy any urge you might have for a story that breaks from all narrative conventions. From Hélène Cattet and Bruno Forzani, the duo behind Amer, this movie is all light, geometry, music, and pure sensation. The framework of the story involves a man who discovers that his wife is missing, but what transpires afterwards is a total head trip of color and sound that features some gruesomely horrific sights. Check out The Strange Color of Your Body's Tears US trailer below.
I really loved this movie when I saw it last year at Fantastic Fest. Anyone familiar with classic giallo movies will be right at home here, as The Strange Color of Your Body's Tears goes for some of the same effect as films by Dario Argento and other directors. But it never feels derivative — this is a film all its own, and it has sights I'll probably never forget. I'm eager to watch it again.
Trailer via iTunes. The Strange Colour of Your Body's Tears opens on August 29.
From directing duo Hélène Cattet & Bruno Forzani (AMER), comes this homage to the masters of classic Italian Giallo horror. Dan returns home to find his wife is missing. With no signs of struggle or break-in and with no help from the police, Dan's search for answers leads him down a psychosexual rabbit hole. THE STRANGE COLOR OF YOUR BODY'S TEARS is a bloody and taut fantasia of suspense that leaves the viewer entranced in this highly original erotic thriller.