Haunted Mansion Movie Update: Doug Jones Hat Box Ghost And New Writers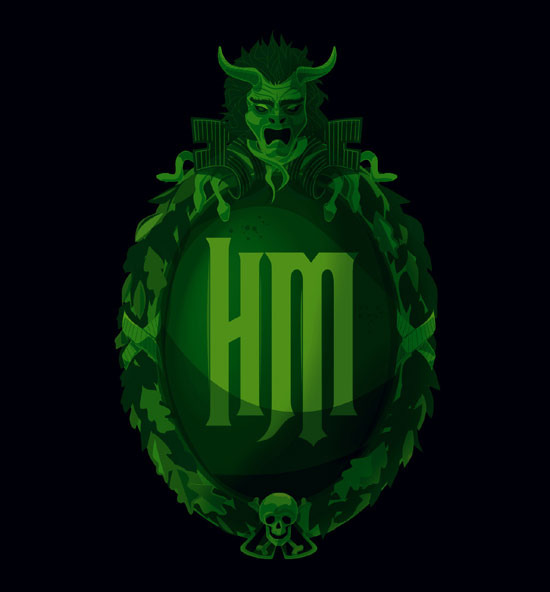 At Comic Con 2010, Guillermo del Toro surprised the crowd at Disney's Hall H panel by publicly announcing that he would be producing (and probably directing) a new big screen adaptation of the classic Disneyland attraction The Haunted Mansion.  Its been almost four years since that announcement, and development is still on going. Del Toro offered a new update on the project during his Reddit AMA. Find out what the filmmaker said about the development of the Haunted Mansion movie adaptation including details of new screenwriters and Doug Jones Hat Box Ghost development art, after the jump.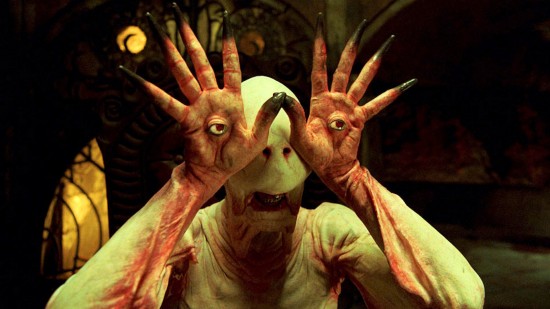 When I talked to del Toro during promotion for Pacific Rim last year, the filmmaker said that he wrote a screenplay with Mimic/Don't Be Afraid of the Dark remake scribe Mathew Robbins but was looking for a screenwriter  "that will bring a lot to it" and that he was "still pursuing a writer that is very hard to get".  Here is what Guillermo del Toro said during his Reddit AMA on July 12th 20014:
Well, I spent 2 weeks ago, I went back to Disneyland with the executives with whom I am developing the screenplay. It's a hard screenplay to crack. We've done it a few times. We are on our third or fourth draft, with 2 different writing teams, and I think the main thing is to try to combine everything that is great about the ride into the movie, and to make it a really intense but with a sense of fun – just like the ride. It's a tough balance, and I would be happy to report if we had the screenplay. We always feel like we are very close, but not yet. We have developed 50-60 pieces of art, We've developed maquettes of the Hat Box Ghost, over the body and face of Doug Jones, but we have not succeeded yet in cracking the screenplay. I have to believe that Disney will make this movie as soon as we crack the screenplay, but until then we cannot tackle it.
Very exciting, but until I hear the project is greenlight, I'm not going to get too excited. I hope it happens and I'd love to see one of the maquettes of Doug Jones (seen above from del Toro's Pan's Labyrinth) as the hat box ghost. Del toro mentions 2 different writing teams but Matthew Robbins is the only screenwriter publicly announced thus far. I'd be interested to hear what other scribes have been working on this project.
Del Toro also hinted he might not have time to direct based on his other projects including Pacific Rim 2, At the Mountains of Madness...etc:
It is a movie I would love to direct, but I would be happy to just produce it if the timing is not right. I, by the way, was named Guest for the Day for the Haunted Mansion the last time I did, which gave me unlimited access to ride the mansion several times during the day. Unfortunately it was just the moment my left knee decided to bust and I had to go back home with a busted knee.
I would love to see this movie happen with del Toro directing, but if it needs to happen with him shepherding the project as a creative producer, I'll take it.

The above poster by Brandon Johnson was given out to attendees at the 2010 San Diego Comic Con panel, and hangs on my wall. If the film never gets made, it may be one of the only movie teaser posters produced by a big Hollywood movie studio for a film that was in development but never actually made.
Since the Comic Con announcement, del Toro has said that a reintroduction of the Hatbox Ghost would be center of his plan. For those of you who aren't Disney nerds, The Hat Box Ghost is a  character that appeared in The Haunted Mansion at Disneyland but was removed shortly after the attraction's debut. Del Toro called the Hatbox Ghost "one of the scariest" images created for the ride, but a character which he also considers "incredibly whimsical."
"There's a legend that it was discarded on the first day of the ride's operation because it was too scary," said del Toro. "I like that legend, but the reality is that the imagineers could not make the illusion work, so they took it out."
Here is a bit of history on the character from wikipedia:
Because The Hatbox Ghost featured prominently in artwork and narration for popular Haunted Mansion record albums sold for many years at Disney parks, and because Disney continues to market the ghost's image, he has never been forgotten and has become somewhat of a legend, complete with cult following. Many fans of the ride wish to see him returned and have gone so far as to circulate petitions calling for the figure's restoration.
Del toro has said that he wants to make a scary movie in live-action 3D, set in "a heightened reality, which is super designed, incredibly innovative, narratively and visually." It would not be a comedy, and he would attempt to make "the Haunted Mansion the most haunted place on Earth" and "doing it by being true to the spirit and the art and the aesthetic of the original Imagineers that created the mansion."