Comic Con 2014 Sunday Schedule Heavy On TV, Plus Batkid, The Lego Movie And Console Wars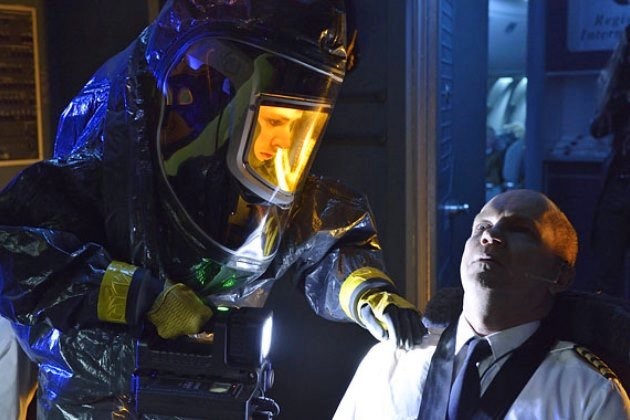 And that's that. The San Diego Comic Con 2014 Sunday schedule is out, completing the programming for the year's most anticipated pop culture event. Here's the Thursday, Friday and Saturday schedules.
Sunday, as usual, is the wind down. Hall H is all TV with Supernatural, The Following, Sons of Anarchy and Guillermo del Toro presenting The Strain. Outside of the big room, there are fun panels on Lego Batman 3, Batkid, the making of The Lego Movie, and the Nintendo/Sega book Console Wars, which is being turned into a film by Seth Rogen and Evan Goldberg.
Below, read the highlights of the Comic Con 2014 Sunday schedule.
For the full San Diego Comic Con 2014 Sunday schedule, visit this link. Here are our highlights.
Supernatural Special Video Presentation and Q&A - 10am - Hall H
Series stars Jared Padalecki (Friday the 13th [2009]), Jensen Ackles (My Bloody Valentine 3D), Misha Collins (Ringer), and Mark A. Sheppard (Battlestar Galactica), along with executive producer Jeremy Carver (U.S. version of Being Human), return to Hall H to answer questions from the audience about what's in store for the tenth season of this exciting series, including their upcoming 200th episode! Fans will also be treated to an exclusive video presentation featuring series highlights, as well as a portion of the special features from the upcoming Supernatural: The Complete Ninth Season DVD and Blu-ray release on September 9. The tenth season of Supernatural will premiere this fall in its Tuesday time period at 9/8c on The CW. The series is produced by Wonderland Sound and Vision in association with Warner Bros. Television.
Batkid: The Film - 10:30am - Room 8
Dana Nachman (documentary filmmaker, KTF Films) unveils her latest project Batkid: The Film, which chronicles the making of the overnight international phenomenon that is Batkid. The panel features Patricia Wilson (CEO of Make-A-Wish Greater Bay Area and mastermind behind Batkid), Eric Johnston (Batkid's adult Batman sidekick and inventor), Mike Jutan (Batkid's nemesis, The Penguin, and Lucasfilm engineer), and Sue Graham Johnston (The Damsel in Distress and VP of operations, Oracle). Join this dynamic team for a Q&A session moderated by Chris Taylor (deputy editor, Mashable).
The Following Special Video Presentation and Q&A - 11:15am - Hall H
Hit thriller The Following returns to Comic-Con for a third year. Series stars Kevin Bacon (Mystic River), Shawn Ashmore (X-Men: The Last Stand), Sam Underwood (Dexter), and Jessica Stroup (90210) will join creator/executive producer Kevin Williamson (Scream) and executive producer Marcos Siega (The Vampire Diaries) for an on-stage Q&A and video presentation. With Joe Carroll once again behind bars, Lily Gray shot in cold blood by Mike Weston, and Luke dead at the hands of Max Hardy, Ryan Hardy's conviction to forge a new life will be put to the test in the psychologically intense third season, when a new villain emerges from the shadows, proving to be even more insidious and dangerous than his former archenemy, Joe Carroll. From Bonanza Productions Inc. in association with Outerbanks Entertainment and Warner Bros. Television, The Following's third season premieres midseason on FOX.
Sons of Anarchy - 12:30pm - Hall H
Get an inside look into the final season of FX's highest-rated series ever, with creator Kurt Sutter (The Shield), executive producer/director Paris Barclay (NYPD Blue), and the full cast: Charlie Hunnam, Katey Sagal, Kim Coates, Mark Boone Junior, Tommy Flanagan, Theo Rossi, Dayton Callie, Jimmy Smits, David Labrava, Niko Nicotera, and Drea de Matteo.
LEGO Batman 3: Beyond Gotham - 1pm - Room 6BCF
Warner Bros. Interactive Entertainment and TT Games present an inside look at LEGO Batman 3: Beyond Gotham, its upcoming, multiplatform game. Produced by the creative geniuses of TT Games, LEGO Batman 3: Beyond Gotham puts Batman, Superman, and the heroes of DC Comics in an out-of-this-world adventure to various Lantern worlds battling Brainiac and some of the universe's most cunning villains. More than 150 characters with amazing powers and abilities provide a whole new twist on the popular action-adventure game. Be among the first to see a Comic-Con exclusive game-play demonstrations and character reveals, receive exciting prizes and giveaways, and witness a true blockbuster announcement. Panelists include TT Games game director Arthur Parsons and executive producer Phill Ring, as well as several members of the stellar voice cast, many of whom are reprising their roles in the famous franchise, including Troy Baker (Batman: Arkham Origins ), Travis Willingham (LEGO Batman: The Movie: DC Super Heroes Unite!), Laura Bailey (Batman: Arkham Origins), Dee Bradley Baker (Phineas and Ferb), Josh Keaton (Green Lantern: The Animated Series)-and special guest star Adam West! LEGO Batman 3: Beyond Gotham will be available in the fall.
The Strain - 1:45pm - Hall H
Get a sneak peek at the third episode of FX's brand new series, The Strain. In episode 3, "Gone Smooth," Eph and Nora fight to save Captain Redfern's life before coming face-to-face with the horrifying effects of the virus. A spike in rat attacks signals Fet that something inexplicable is happening deep below the city. Released from jail, Setrakian begins his own merciless plan to stop the spread of the disease. Written by Chuck Hogan; directed by David Semel. After the screening, join series creators Guillermo del Toro (Pacific Rim) and Chuck Hogan and showrunner Carlton Cuse (Lost) along with the cast members Corey Stoll, David Bradley, Mia Maestro, Sean Astin, Kevin Durand, Jonathan Hyde, Richard Sammel, Miguel Gomez, Ben Hyland, and Jack Kesey.
Console Wars: Sega, Nintendo, and The Battle That Defined a Generation - 2:30pm - Room 23ABC
Remember when Sonic took on Mario and tried to prove that Sega does what Nintendon't? Revisit the first generation of console wars with author Blake J. Harris (Console Wars: Sega, Nintendo, and the Battle That Defined a Generation) and some of the video game personalities who were in the trenches-Tom Kalinske (Sega of America), Al Nilsen (Sega of America), Bill White (former Nintendo of America employee), and Perrin Kaplan (former Nintendo of America employee), as well as Julian Rosenberg, producer of the upcoming Console Wars documentary.
LEGO/Warner Bros.: The LEGO Movie - 3:45pm - Room 5AB
Hear all about how key toys from the film were brought to life! Brian Bowler (brand marketing director, LEGO) will lead the discussion on the development of The LEGO Movie with Matthew Ashton (executive producer and vice president of product design, LEGO), Michael Fuller (senior product designer, LEGO), and Jadon Sands (actor, The LEGO Movie).