New 'Better Call Saul' Plot Details: Series Takes Place Six Years Before 'Breaking Bad'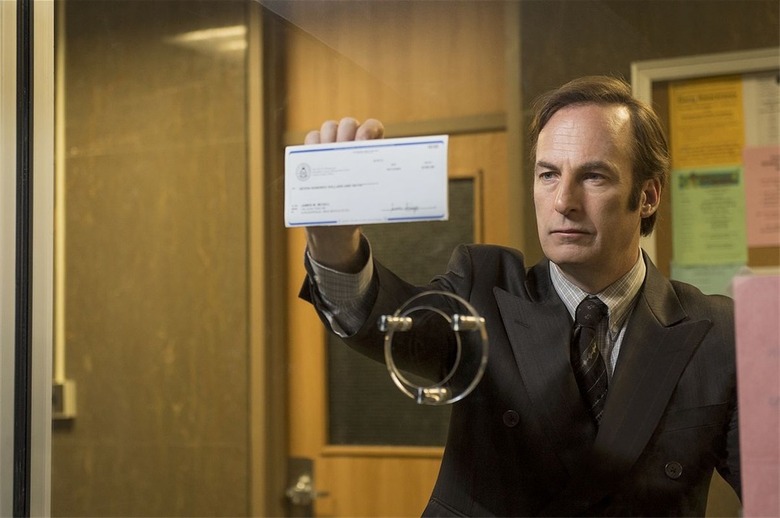 OK, here we go: real details on what Vince Gilligan is doing with his Breaking Bad spin-off series Better Call Saul. We've known some basics, such as that Bob Odenkirk and Jonathan Banks are reprising their Breaking Bad roles of Saul Goodman and Mike Ehrmantraut. And we've heard a hell of a lot of rumors, speculation, and "maybe" details from Gilligan, Odenkirk, and other participants. Now during a TCA press tour, Gilligan and AMC have offered up two new photos (that's one above), a cast list, and new Better Call Saul plot details. 
Now we know that the show is generally set six years before the events of Breaking Bad, before Saul was even called Saul. All the details are below.
An AMC press release (via HitFix) reveals that the cast will include Michael McKean as Saul's brother Chuck (seen in another image below), Rhea Seehorn as Kim, Patrick Fabian as Hamlin and Michael Mando as Nacho. These are all, as the release says, "characters that will represent both legitimate and illegitimate sides of the law."
Here's how AMC describes the plot:
The series is set six years before Saul Goodman meets Walter White. When we meet him, the man who will become Saul Goodman is known as Jimmy McGill, a small-time lawyer searching for his destiny, and, more immediately, hustling to make ends meet. Working alongside, and, often, against Jimmy, is "fixer" Mike Ehrmantraut, a beloved character introduced in 'Breaking Bad.' The series will track Jimmy's transformation into Saul Goodman, the man who puts "criminal" in "Criminal lawyer." The series' tone is dramatic, woven with dark humor.
Alan Sepinwall also provides some choice Gilligan quotes from today's panel. First, on the reason for the premiere's delay, the series creator said,
I am slow as mud as a TV writer. I always have been. It was my big fear when I got the job in 'The X-Files.' I still feel I'm very slow for television.... We have a way of doing things that is slower than most TV shows.
What about bringing back other characters, specifically Gus? They're still figuring out what to do with other characters, but Gilligan did say,
Gus, there's so much more we have to say about that character... Having said that, we're trying to make something that stands on its own, that has an entertainment value that's not just seeing a series of old favorites, or 'Remember when?' It's not the series equivalent of a clip show. We try to balance these things out. But I agree that there's so much to be said about Gus.
That quote shouldn't be taken to mean "Gus will be in the show, they just have to figure it out."
And what about creating a show around Saul in the first place?
I thought it was gonna be kind of easy going forward, knowing who this guy is. But we don't really know who this guy is at all ... we know [the end of Breaking Bad is] where the guy is going to end up. We're going to bring him to that point. [And since they began knowing that "Saul Goodman" was an assumed name, that's a starting point.] What problem does being Saul Goodman solve?
Here's the second pic. (Click either image to enlarge.)