Comic Con 2014 Friday Schedule Features Marvel Television, [Adult Swim], And Game Of Thrones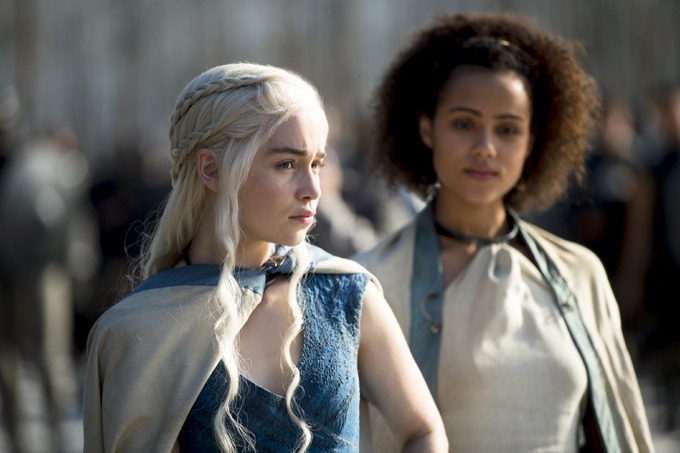 The Comic Con 2014 Friday schedule is out, and it's a huge TV day. Cartoon Network and [Adult Swim] (and Bob's Burgers and Archer) are over in the Indigo Ballroom in the Hilton Bayfront, while 20th Century Fox, Kevin's Smith's Tusk, and Daniel Radcliffe and the film Horns will all appear in Hall H. Game of Thrones will be in H as well, while other TV shows, such as Marvel's offerings (Daredevil?) will be in Ballroom 20. A selection of program highlights is below. 
Get the full schedule here.
Animation Show of Shows - 10:15am - Hall H
Ron Diamond's 15th Annual Animation Show of Shows features a selection of the best award-winning animated shorts from around the world. Kicking things off is Chris Sanders's newly remastered Fun with Father, the comically sinister student film that launched the career of the director of Lilo and Stitch, How to Train Your Dragon, and The Croods. That's followed by a selection of awesome shorts, including the hysterical Sisyphean climb to the top in Ascension from France's Supinfocom, Canadian Jonathan Ng's breakup parable of two mismatched Korean lovers in Requiem for Romance, and Muscovite Yulia Aronova's adorable tale of a very special mom in My Mom Is an Airplane.
Adventure Time - 11am - Indigo Ballroom, Hilton Bayfront
Oh my glob, what would Comic-Con be without Adventure Time? Never fear, fans, Cartoon Network is bringing back the most mathematical show on TV to Comic-Con. You know what time it is! So get off your lumps and hang out with the fantastical cast and crew as they dish on all things Adventure Time and share never-before-seen footage. The following friends will be appearing from the Land of Ooo for a super sick panel: Jeremy Shada (Finn), John DiMaggio (Jake), Tom Kenny (Ice King), and more. Moderated by the super-talented and man-of-many-voices Tom Kenny.
Legend of Korra Book 3 - 11:15am - Ballroom 20
Executive producer and creator team Bryan Konietzko and Mike DiMartino (Avatar: The Last Airbender) give a behind-the-scenes peek at how they create one of animation's most stunning television productions. Panelists include voice actors Janet Varney(Korra), David Faustino (Mako), P. J. Byrne (Bolin), Seychelle Gabriel (Asami), and Mindy Sterling (Lin Beifong). Including an exclusive sneak peek screening of a new episode for Book 3, "Change." Moderated by Megan Casey (VP of current series for Nickelodeon).
Sneak Peek - 11:30am - Hall H
No description given yet.
Venture Bros. - 12:15pm - Indigo Ballroom, Hilton Bayfront
The fifth annual [adult swim] panel block at Comic-Con will be kicked off with the cult-favorite series The Venture Bros. Co-creators Jackson Publick and Doc Hammer take the stage to discuss the upcoming sixth season of their original series and to answer fan questions.
The Walking Dead - 12:20pm - Hall H
Andrew Lincoln, Norman Reedus, Steven Yeun, Lauren Cohan, Danai Gurira, Melissa McBride, Chad Coleman, and Michael Cudlitz join executive producer and showrunner Scott Gimple, executive producer Robert Kirkman, executive producer Gale Anne Hurd, executive producer Dave Alpert, and special effects makeup supervisor and executive producer Greg Nicotero in a panel moderated by Chris Hardwick (The Nerdist, Talking Dead) to discuss the shocking finale of season 4 of The Walking Dead and what to look forward to in season 5, debuting this fall on AMC. Join the panelists for a Q&A session and an official sneak preview of season 5.
Game of Thrones - 1:40pm - Hall H
Based on the bestselling fantasy book series A Song of Ice and Fire by George R. R. Martin, HBO's Game of Thrones concluded its 10-episode fourth season in June and will begin filming its fifth season this summer. The series, executive produced and written by David Benioff and D. B. Weiss, is an epic story of treachery and nobility, set on the continent of Westeros, where summers and winters can last years. Featured cast include (in alphabetical order) Gwendoline Christie as Brienne of Tarth, Nikolaj Coster-Waldau as Jaime Lannister, Natalie Dormer as Margaery Baratheon, Kit Harington as Jon Snow, Rose Leslie as Ygritte, Rory McCann as Sandor Clegane ("The Hound"), Pedro Pascal as Oberyn Martell, Sophie Turner as Sansa Stark, and Maisie Williamsas Arya Stark.
EW's Brave New Warriors - 1:45pm - Ballroom 20
A discussion among several of today's buzziest actors heroes including Freddie Highmore (Bates Motel), Brenton Thwaites (The Giver) and others who will discuss the thrills and fears of taking on iconic characters, reveal how they broke into the business, and share their favorite stories from set.
Rick and Morty - 1:45pm - Indigo Ballroom, Hilton Bayfront
Executive producers Dan Harmon (Community) and Justin Roiland (Adventure Time) invite fans for a behind-the-scenes look at the upcoming second season. They will be joined by cast members Spencer Grammer (Greek) and Chris Parnell (Archer).
Marvel Television Presents - 3pm - Ballroom 20
Jeph Loeb (Marvel's head of television) returns with exciting news and fun surprises for fans! Join Jeph and the casts of Marvel's Agents of S.H.I.E.L.D. and Marvel's Agent Carter in this can't-miss panel that will take you behind the scenes and into the future of Marvel's live-action television series.
Radius Premieres Horns and Everly - 3pm - Hall H
First-time Comic-Con attendee and star of Horns Daniel Radcliffe joins co-star Juno Temple, director Alexandre Aja, and novelist Joe Hill to debut the world premiere of the Horns movie trailer, chat about the film, and hold an audience Q&A. In addition, Salma Hayek will be introducing new footage from her kick-ass film Everly. The panel will also reveal new scenes from upcoming RADiUS titles with some special surprises.
Bob's Burgers - 4pm - Indigo Ballroom, Hilton Bayfront
You never know what to expect from the cast and producers of Bob's Burgers. Creator and executive producer Loren Bouchard, executive producer Jim Dauterive, and the hilarious cast including H. Jon Benjamin, Dan Mintz, John Roberts, Kristen Schaal, and Larry Murphy will entertain with never-before-seen footage followed by a Q&A panel discussion.
The Originals - 4:15pm - Ballroom 20
The Originals, The CW's top new series last season, will be returning for more sexy, supernatural intrigue, romance, alliances and bloodshed in New Orleans this fall. Join executive producer Julie Plec (The Vampire Diaries) and co-executive producer Michael Narducci (The Vampire Diaries), along with series stars Joseph Morgan (The Vampire Diaries), Daniel Gillies (The Vampire Diaries),Phoebe Tonkin (The Vampire Diaries), Charles Michael Davis (Grey's Anatomy), Leah Pipes (Terminator: The Sarah Connor Chronicles), and Danielle Campbell (Prison Break), for a special video presentation followed by a Q&A. From Bonanza Productions Inc. in association with My So-Called Company, Alloy Entertainment, Warner Bros. Television and CBS Television Studios, The Originals will air in its new timeslot this fall-Mondays at 8/7c on The CW.
20th Century Fox - 4:20pm - Hall H
Archer - 5pm - Indigo Ballroom, Hilton Bayfront
The popular animated comedy revolves around the International Secret Intelligence Service (ISIS) and its employees who use every covert operation and global crisis as another excuse to undermine, sabotage and betray each other for personal gain. See an exclusive screening of an original short animation piece created specifically for SDCC, plus the upcoming never-before-seen season 6 premiere episode. Then join the voice cast of H. Jon Benjamin (Bob's Burgers), Aisha Tyler (The Talk), Chris Parnell (21 Jump Street), Judy Greer (Arrested Development), Amber Nash (Frisky Dingo), and Lucky Yates (Good Eats), plus creator Adam Reed(Sealab 2021) and co-executive producer Casey Willis as they discuss bringing this animated series to life.
Arrow - 5:30pm - Ballroom 20
With Oliver Queen's arch-nemesis Slade Wilson now behind bars, Team Arrow can breathe a long sigh of relief and shift their focus to recounting their most recent conquests with all their fans at Comic-Con 2014. However, they better act fast, as the threat of Malcolm Merlyn is once again looming over Starling City. Arrow series stars Stephen Amell (Private Practice), Katie Cassidy (Supernatural), David Ramsey (Dexter), Emily Bett Rickards (Flicka: Country Pride), Colton Haynes (Teen Wolf), Willa Holland (The O.C.), Paul Blackthorne (The River), and John Barrowman (Torchwood) — with executive producers Greg Berlanti(The Flash), Marc Guggenheim (Green Lantern ), and Andrew Kreisberg (Fringe) — will take aim at San Diego with a special video presentation and panel discussion previewing the show's upcoming and highly anticipated third season. Arrow: The Complete Second Season will be released on Blu-ray, DVD, and UltraViolet on September 16. Based upon characters appearing in comic books and graphic novels published by DC Comics, Arrow is from Bonanza Productions Inc. in association with Berlanti Productions and Warner Bros. Television. The series returns this fall, airing Wednesdays at 8/7c on The CW.
The Musk of Tusk: An Evening With Kevin Smith - 6:35pm - Hall H
After all the interesting and exciting movie panels are over, Hall H belongs to a middle-aged man who once worked with BatFleck! Ask ComiKev questions and get ready to say #WalrusYes as Kev premieres the trailer to his first film in three years: the twisted, transformative tale of Tusk! Wrap up a busy Friday with the Clown Prince of Comic-Con!
Batman Assault on Arkham - 7pm - Ballroom 20 (encore presentation at 9:30pm)
Be among the first to experience Batman: Assault on Arkham, the highly anticipated next entry in the ongoing series of DC Universe Original Movies. Produced by Warner Bros. Home Entertainment, DC Entertainment, and Warner Bros. Animation, the film is based on the bestselling Batman: Arkham video game series. We find Gotham in great danger when the government assembles a group of villains-code-named The Suicide Squad-and forces them to break into Arkham Asylum to retrieve top-secret information stolen by the Riddler. Things take a turn for the worse when Harley Quinn frees the Joker, who is intent on using a dirty bomb to blow up Arkham Asylum and Gotham City. Batman must use his superhero wits and strength to thwart the wicked plans of the Joker and the Suicide Squad. When the film ends, stay in your seat for a star-studded panel discussion featuring fan-favorite Batman voice Kevin Conroy (Batman: The Animated Series), as well as Matthew Gray Gubler (Criminal Minds), Troy Baker (The Last of Us), and John DiMaggio (Futurama), plus the filmmaking team of producer James Tucker (Son of Batman), director Jay Oliva (Justice League: War), dialogue director Andrea Romano (Batman: The Dark Knight Returns), screenwriter Heath Corson (Justice League: War) and moderator Victor Lucas (Electric Playground). As usual, there will be special announcements, exclusive prizes for a few lucky fans, and a few potential surprises. Batman: Assault on Arkham will be available on Digital HD on July 29 and as a Blu-ray Combo Pack on August 12.