Alec Baldwin In Talks For 'Mission: Impossible 5' [Updated]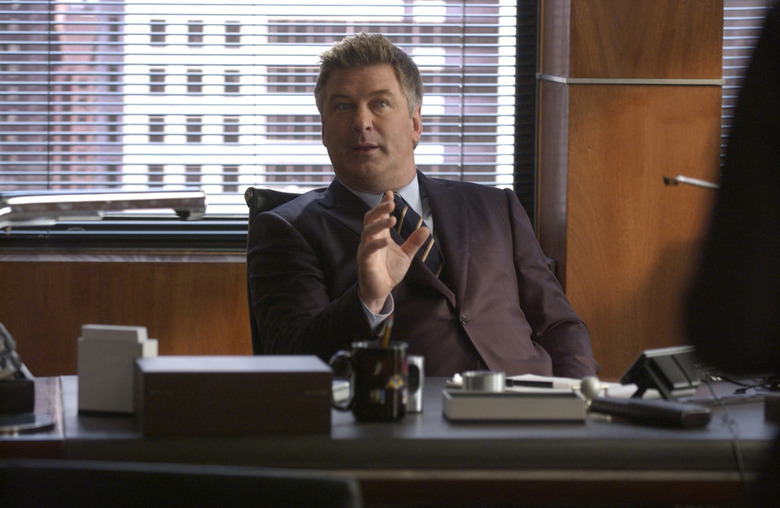 Mission: Impossible 5 will be bringing several familiar faces back to the screen, including Tom Cruise, Jeremy Renner, and Simon Pegg. Naturally, it will introduce some new names as well. One of those will be Alec Baldwin, who's now in talks to join the Chris McQuarrie-directed film.
(Update: Rebecca Ferguson of The White Queen is also reportedly likely to join the film as the female lead, who is an assassin of some sort.)
And that's not all for Baldwin. He's also negotiating to join Will Smith in the NFL concussion drama directed by Peter Landesman, and he's developing a new cable TV series in which he'll play a Rob Ford-like figure. Hit the jump for more details on all the new projects.
Mission: Impossible 5 will star Baldwin as a high-ranking CIA officer overseeing Ethan Hunt's division. Variety likens the character to the one played by Laurence Fishburne in Mission: Impossible III.
Baldwin is the first new actor to board the sequel. Jessica Chastain was rumored for the female lead a while back but has since turned down the job. Ferguson is reportedly eyed for the film because she has "the type of athletic look" required for the part, and can ably fill the role for which Chastain was courted. Paramount has the film scheduled to open December 25, 2015.
Moving along, Landesman's untitled drama is based on the 2009 GQ article Game Brain by Jeanne Marie Laskas. Smith will play a doctor who discovers the link between American football and long-term head injuries. Baldwin's part has not been revealed.
Finally, Baldwin is also working on an untitled TV show, about a fictional New York City mayor modeled after real Toronto mayor Rob Ford — you know, the one who got in trouble for smoking crack among other things.
NBC Productions is making the series with Baldwin, but it likely won't actually air on NBC. Instead, it's being envisioned as an "edgy" one-hour cable series. Wells Tower is writing the pilot and Baldwin is executive producing alongside Cary Brokaw.
Last year, Baldwin wrapped his longtime role on NBC's 30 Rock and had a supporting part in Blue Jasmine. His upcoming roles include Cameron Crowe's untitled romance and a Howard Hughes movie directed by Warren Beatty.