First Look: Ian McKellen As Sherlock Holmes In 'Mr. Holmes'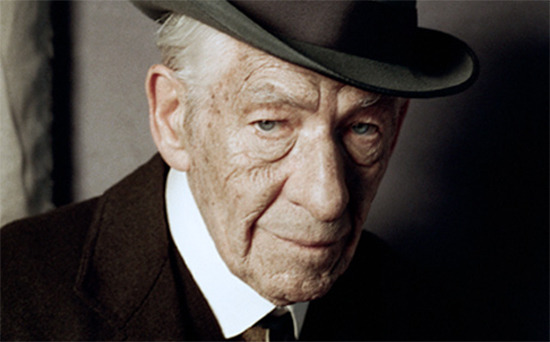 Sherlock Holmes continues to be an incredibly popular screen character. Even with two television versions in play now, in Sherlock and Elementary, there's room for another Holmes. And this new Holmes is, in fact, rather old. Sir Ian McKellen stars as the detective in Mr. Holmes, directed by Bill Condon (Gods and Monsters, The Fifth Estate) based on the novel A Slight Trick of the Mind by Mitch Cullin. See the first look at McKellen's Holmes, as provided by the actor himself.
Over 70 actors have previously played Sherlock Holmes. Now he's 93 years old and it's my turn. #MrHolmes pic.twitter.com/B9HkUgfkCv

— Ian McKellen (@IanMcKellen) July 9, 2014
The film co-stars Laura Linney, and explores a period when "an aged, retired Sherlock Holmes looks back on his life, and grapples with an unsolved case involving a beautiful woman."
Jeffrey Hatcher and Bill Condon scripted, and the film is just now starting to shoot in the UK.
Here's some more info on the book.
It is 1947, and the long-retired Sherlock Holmes, now 93, lives in a remote Sussex farmhouse with his housekeeper and her young son. He tends to his bees, writes in his journal, and grapples with the diminishing powers of his mind. But in the twilight of his life, as people continue to look to him for answers, Holmes revisits a case that may provide him with answers of his own to questions he didn't even know he was asking–about life, about love, and about the limits of the mind's ability to know. A novel of exceptional grace and literary sensitivity, A Slight Trick of the Mind is a brilliant imagining of our greatest fictional detective and a stunning inquiry into the mysteries of human connection.