David Gordon Green And Steven Soderbergh Team Up For Amazon Pilot 'Red Oaks'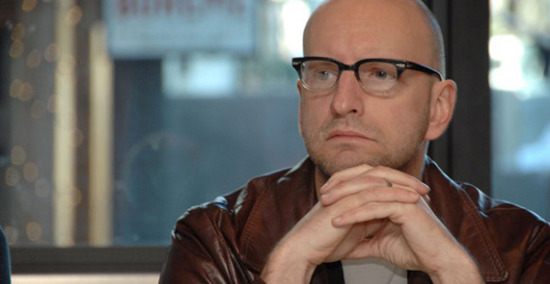 Steven Soderbergh's new home is the small screen. The director may not be interested in making theatrical movies at this point, but his transition from film to TV started with Behind the Candelabra, made for HBO, and continues soon with the Cinemax show The Knick. Now Soderbergh is working as a producer on a show called Red Oaks, and the pilot will be directed by David Gordon Green. The show is part of Amazon's third wave of pilots, and as such everyone will be able to watch the pilot, and have input into any decision to order a series, when it is ready next year.
Amazon has announced the cast for the show, which includes Craig Roberts, Paul Reiser, Jennifer Grey, Richard Kind, and Oliver Cooper.
First up, Red Oaks was conceived by Gregory Jacobs, who has produced many projects for Soderbergh, and pitched the director the story while making Candelabra. Jacobs and Joe Gangemi (Eliza Graves) scripted, and will exec produce with Soderbergh and Green.
In the show, set in 1985, Craig Roberts (Submarine) plays college student David Myers, who has a job as an assistant tennis pro at the Red Oaks Country Club in New Jersey. In addition to the cast mentioned above, the show will feature Gage Golightly (Teen Wolf) and Ennis Esmer (The Listener) with guest appearances from Josh Meyers, Freddie Roman and Alexandra Socha.
Soderbergh told Variety that Jacobs delivered the script while they were working on The Knick, and that led to the choice of David Gordon Green to direct the pilot. "We very quickly agreed to approach David because the humor was sharp without being mean, and we felt he would understand and appreciate that."
Red Oaks joins the set of previously announced Amazon pilots for the third season:
The Cosmopolitans, a half-hour dramedy written, directed and produced by Whit Stillman (Metropolitan, The Last Days of Disco) about a group of young American expats in Paris.
Hand of God, an hour-long drama directed by Marc Forster (World War Z) starring Ron Perlman as a "hard-living judge."
Hysteria, an hour-long thriller created by Shaun Cassidy and starring Mena Suvari as a neurologist investigating a strange illness, perhaps spread by social media.
Point of Honor, a Civil War-era drama from Carlton Cuse and Randall Wallace.