Sequel Bits: 'Jurassic World', 'Pitch Perfect 2', 'Pirates Of The Caribbean 5', 'Sharknado 2'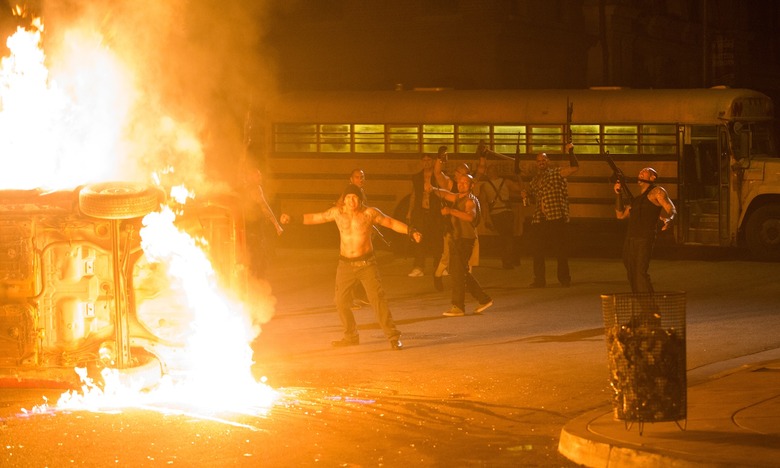 Just because J.K. Rowling returned to Harry Potter doesn't mean Daniel Radcliffe has any plans to. Also after the jump:
Olivia Munn
and
Ken Jeong
will tag along for
Ride Along 2
Pirates 5 will go light on the monsters, says Jerry Bruckheimer
Bad Boys III will have a screenplay in the next few months
Yes, National Treasure 3 is still in active development
Jurassic World gets bloody in an intriguing new set photo
See a new batch of high-res stills from The Purge: Anarchy
Check out the first stills from SLC Punk 2: Punk's Dead
Director Elizabeth Banks teases the plot of Pitch Perfect 2
Sharknado 2: The Second One releases a ridiculous trailer
He continued: "I don't think it's a question that's even – not even hypothetical. As I understand, it's a very short piece, not of itself worthy of adaptation to film. And, he's at least 12 years older than I am now. I don't think I'll have to worry about that for a long time." [Deadline]
Ride Along 2 is adding a few more passengers. Olivia Munn and Ken Jeong have boarded the comedy sequel, joining Kevin Hart, Ice Cube, and Benjamin Bratt. Munn will play a Miami PD detective and a love interest for Cube. Jeong's role has not been revealed. Ride Along 2 cruises in on January 15, 2016. [THR, Deadline]
Although Jack Sparrow has encountered some pretty fantastical beings over the course of four Pirates of the Caribbean movies, producer Jerry Bruckheimer says he won't be tangling with many demonic monsters in the next installment.
"I think we're back to more of a straight pirates movie this time," he said, adding that big Kraken creatures were "not in the script I read recently."
In the same interview, he also confirmed once again that Bad Boys III and National Treasure 3 are still in the works. The former is currently being outlined and should "hopefully" get a screenplay "in the next three months. The story will take place entirely in Miami.
As for the latter, Bruckheimer says, "We just had a meeting on Friday with the writers and the director, so hopefully that will come together." Jon Turteltaub is once again directing, with a new team writing the script. [Collider]
It looks like the humans of Jurassic World are going to be learning some pretty harsh lessons about the consequences of messing with nature. In a new set photo posted by director Colin Trevorrow, a bloody human handprint is smeared across the Mobile Veterinary Unit.
Saturday, 4AM. pic.twitter.com/yxSOMp3V1f

— Colin Trevorrow (@colintrevorrow) June 29, 2014


Jurassic World opens June 12, 2015. [Twitter]An after-dinner stroll sounds like a fine idea on most days, but Purge Day isn't most days. Frank Grillo, Zach Gilford, Kiele Sanchez, and Carmen Ejogo look positively terrified to be out and about in a new batch of high-res stills from The Purge: Anarchy.
The horror sequel arrives July 18. [Collider]
Like so many other '90s cult classics before it, SLC Punk! is getting a sequel. Writer-director James Merendino took to Indiegogo last year to fund the follow-up, and has now delivered the first pics from SLC Punk 2: Punk's Dead.
SLC Punk 2 picks up with the characters from the original SLC Punk, as well as the next generation of young hellraisers. Ben Schneitzer plays Ross, son of Heroin Bob (Michael Goorjian). Devon Sawa, Adam Pascal, and James Duval all reprise their roles. Look for SLC Punk 2 to premiere late this year or sometime next year. [Film School Rejects]
In the first Pitch Perfect, the Bellas were the scrappy underdogs to the top dog Treblemakers. However, director Elizabeth Banks explains that things will have changed in Pitch Perfect 2.
"The Bellas have a new main rival this time around," she revealed. "They've gotten too big for their britches, possibly literally, and they've forgotten about the music a little bit.
To see what else Today learned on set — and to get an eyeful of some behind-the-scenes footage — check out the entire video report below.
Pitch Perfect 2 hits theaters May 15, 2015. [Today]
Love it or hate it, the new trailer for Sharknado 2: The Second One is exactly what you'd expect from a movie called Sharknado 2: The Second One.
As ridiculous as everything in that trailer is, though, none of it is as absurd as the central premise of the new clip below. As a New Yorker, I've seen the subway system get screwed up over a little light rain. There's no way the trains would still be running in the event of a full-on tornado replete with flying sharks.
If you can get past the shocking lack of subway-related realism, tune into Sharknado 2: The Second One when it premieres on Syfy July 30. [Variety]