'Vacation' Leads Chevy Chase And Beverly D'Angelo Close To TV Reunion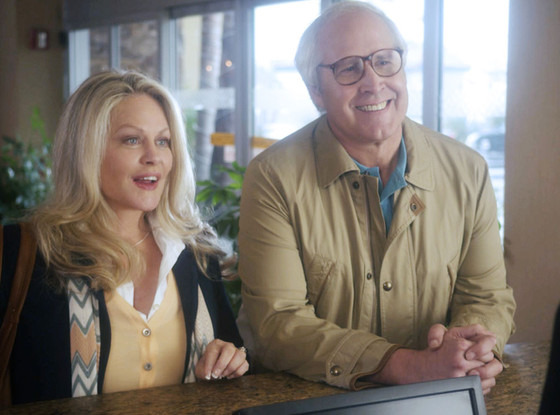 Everyone loves a comedy reunion, it seems, and Vacation fans get a couple different versions. First there was that Old Navy ad campaign that brought Chevy Chase, Beverly D'Angelo, and Juliette Lewis back together to hawk trousers. Then there's the new Vacation film that casts Ed Helms as the grown Griswold son, and will feature cameos from Chase and D'Angelo as the elder Griswolds. Now the two actors have a script commitment from ABC for the new comedy series that will cast them as a couple forced to raise their grandchildren. It's not explicitly a Vacation TV reunion, but it's close enough.
And while we're at it, Leslie Mann is in talks to play Audrey Griswold in the new Vacation film.
THR reports that the as-yet unnamed series, conceived by Aaron Kaplan, now has Brad Copeland (My Name Is Earl, Grounded for Life, Arrested Development) to write the script and exec produce the pilot.
Chase and D'Angelo will play "a married couple whose golden years are interrupted after circumstances beyond their control force them to raise their grandchildren." So, something like a tweaked version of the Billy Crystal/Bette Midler comedy Parental Guidance, with a bit of Vacation influence? Seems that way.
Chase's last foray into television had a less than satisfying ending. Chase was a prominent member of the cast of Community for four seasons, but and Community creator Dan Harmon traded barbs in public prior to Harmon's temporary ouster from the show. Chase left the cast during the fourth season, while Harmon was also off the show, but did return for a cameo in the fifth season premiere.
Meanwhile, the new sequel/reboot of Vacation is set to shoot starting next week. In addition to Helms and the two cameos, the film features Christina Applegate as the wife of Rusty Griswold, Chris Hemsworth as Stone Crandall, "an up-and-coming anchorman" and the husband of Rusty's sister Audrey, and a cameo from Charlie Day.
THR reports that Leslie Mann is now in talks to play Audrey in the film that John Francis Daley and Jonathan Goldstein wrote and are directing.