'Fast & Furious 7' Release Moved Up One Week; 'Insidious Chapter 3' Release Moved Back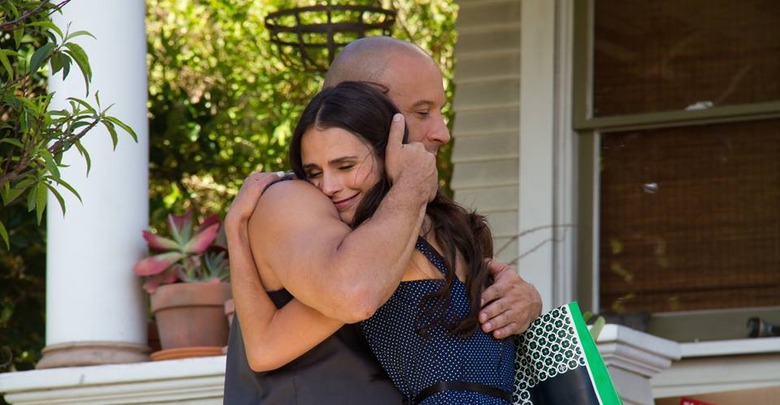 Two James Wan projects have new release dates. Wan's first entry in the Fast & Furious series, Fast & Furious 7, will now open a week earlier than previously planned. And Insidious Chapter 3, which counts Wan as co-creator and producer, with Leigh Whannell writing and directing, is now set for May 2015. Details on both films follow after the break.
First up, THR reports that Wan's Fast & Furious 7 is now set for April 3, 2015. It was previously planned to open a week later, on April 10. But Universal wants to do a global day and date release, and April 3 was a more open slot for all territories. And so you have one less week to wait.
The sequel stars Vin Diesel, and Dwayne Johnson, and will be the the final appearance of the late Paul Walker. There will also be appearances from returning actors Michelle Rodriguez, Jordana Brewster, Tyrese Gibson, Chris "Ludacris" Bridges, Elsa Pataky and Lucas Black. Jason Statham, Djimon Hounsou, Tony Jaa, Ronda Rousey and Kurt Russell make up the new additions to the cast.
And then there's Insidious Chapter 3, which has a new release date as part of the new set of schedule updates from Focus Features. The second Insidious sequel was previously set to open on that same April 3 date now occupied by Fast & Furious 7. And so Insidious Chapter 3 has been pushed to May 29, 2015.
In addition, Kevin Macdonald's Black Sea will see limited release on January 23, 2015. Here's what we know about that film.
A suspenseful adventure thriller, Black Sea centers on a rogue submarine captain (Jude Law,) who pulls together a misfit crew to go after a sunken treasure rumored to be lost in the depths of the Black Sea. As greed and desperation take control onboard their claustrophobic vessel, the increasing uncertainty of the mission causes the men to turn on each other to fight for their own survival.
And Tarsem Singh's Selfless has moved from February 27, 2015 to April 17, 2015.
Ryan Reynolds, meanwhile, stars in

Selfless

, an unconventional sci-fi thriller about a terminally ill billionaire who buys a chance for eternal life through an experimental underground medical procedure called "shedding," which transfers his consciousness into the cadaver of a younger man. But the promise of immortality turns into a nightmare when he experiences flashbacks which begin to reveal the disturbing origins of the body he now inhabits.