The Killing Season 4 Trailer: New Cases And A Climactic Conclusion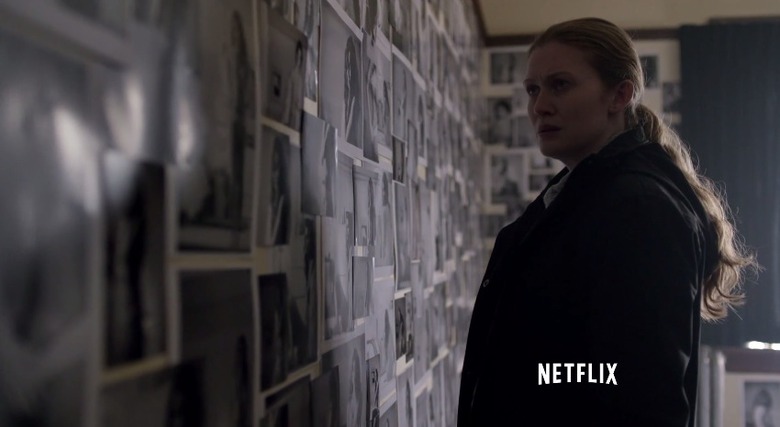 The six-episode fourth season of The Killing will be available on Netflix on August 1st 2014, and the company has released the first real trailer — promising cover-ups of an old mess, new mysteries, driving to a climactic conclusion of the story. Watch The Killing Season 4 trailer now after the jump.
The Killing Season 4 Trailer
The Killing stars Mireille Enos and Joel Kinnaman reprise their roles as detectives Linden and Holder, who are investigating both a gruesome mass slaying that exposes a dark family history, as well as a mysterious disappearance within the ranks of their own Seattle Police Department. Netflix promises that this final season both "wraps up loose ends and reveals long-buried secrets."
The new trailer promises a cover-up of the mess that was left at the end of Season 3, some new mysteries and what feels to be building to a climactic conclusion of the series. Count me in.
The Killing was cancelled for the first time after its second season. Although the show had started out strong, it started shedding viewers as they grew more and more disillusioned with the plotting. But the network reversed the decision a few months later, with some nudging from Netflix. The streaming service had struck a deal to host the episodes 90 days after the end of Season 3, in exchange for chipping in to offset some of the production costs. AMC  cancelled the show again after a season that attracted strong reviews but uninspiring ratings. AMC is not involved in the fourth and final season.
The Killing is a television show that can't be killed. After not one but two cancellations by AMC, the crime drama was resurrected for a fourth season by Netflix. Hate all you want on the cliffhanger endings (I still love the show) but Netflix sees the viewing patterns in their subscribers and knew their was an opportunity to provide catharsis by concluding the story with a final final (we're serious this time) final season.
Cindy Holland, Netflix's VP of original content, has explained the decision as follows: "The rich, serialized storytelling in The Killing thrives on Netflix, and we believe that it is only fitting to give Sarah Linden (Enos) and Stephen Holder (Kinnaman) a proper send off," she said. "We are looking forward to offering fans — both existing and new — a series that we know is perfectly suited for on-demand viewing."