New 'Foxcatcher' Teaser Trailer: Channing Tatum Has A Grim Obsession With Winning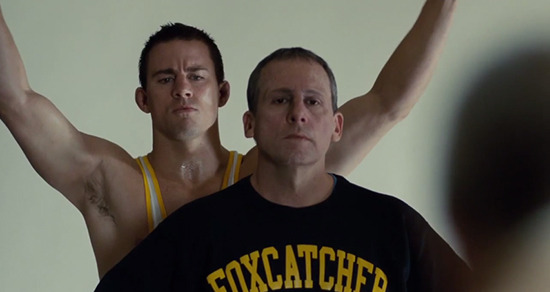 In this new Foxcatcher trailer, we see Channing Tatum as a wrestler who is obsessed with the idea of winning Olympic gold. But his talk of taking home the prize could almost be read like a speech from Tatum about putting in the work to win an Oscar. And if the glowing Cannes reviews are any indication, this new movie from Moneyball director Bennett Miller could be just as impressive as the first footage makes it out to be.
This trailer is deeply intense and grimly foreboding as Tatum squirms under the calculating eye of Steve Carell. Mark Ruffalo observes, playing the brother of Channing's character. Tatum is downright scary here, and Carell looks like he's playing a guy that could stare down Hannibal Lecter. This adaptation of a true story is more than just a sports drama, but Sony isn't giving away too much just yet. Check out the trailer below.
Foxcatcher opens on November 14. Trailer via Fandango.
When Olympic Gold Medal winning wrestler Mark Schultz (Channing Tatum) is invited by wealthy heir John du Pont (Steve Carell) to move on to the du Pont estate and help form a team to train for the 1988 Seoul Olympics at his new state-of-the-art training facility, Schultz jumps at the opportunity, hoping to focus on his training and finally step out of the shadow of his revered brother, Dave (Mark Ruffalo). Driven by hidden needs, du Pont sees backing Schultz's bid for Gold and the chance to "coach" a world-class wrestling team as an opportunity to gain the elusive respect of his peers and, more importantly, his disapproving mother (Vanessa Redgrave).
Flattered by the attention and entranced by du Pont's majestic world, Mark comes to see his benefactor as a father figure and grows increasingly dependent on him for approval. Though initially supportive, du Pont's mercurial personality turns and he begins to lure Mark into an unhealthy lifestyle that threatens to undermine his training.