Beyond Fest 2014 Features 'Starry Eyes,' 'Nightcrawler' And 4K 'Halloween' With John Carpenter And Jamie Lee Curtis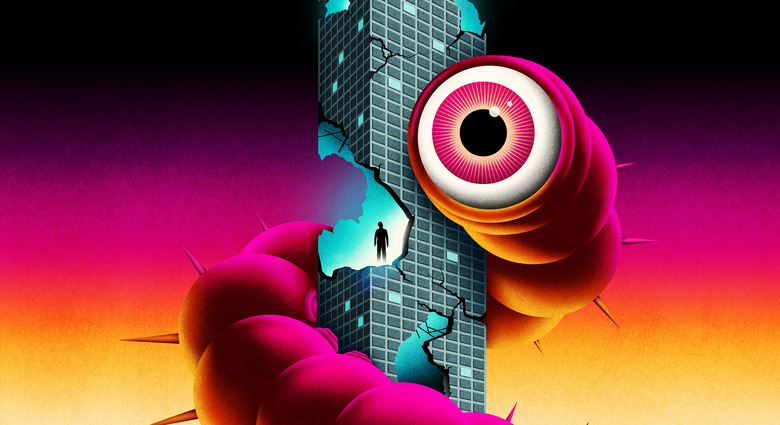 For those who live in LA, October is a great month. Several theaters really orient the month's programming to horror, the supernatural, and the strange. One of the best recent events in town is Beyond Fest, which in 2014 runs from September 25 to October 4. (Leaving fans the rest of October to enjoy horror at other venues!)
This year, the Beyond Fest lineup lives up to its name, with a new 4K transfer of Halloween, for which John Carpenter and Jamie Lee Curtis will be in attendance. There's the local premiere of the Hollywood horror Starry Eyes; the Jake Gyllenhaal thriller Nightcrawler; Horns, the Daniel Radcliffe film from Alexandre Aja; the remake of The Town That Dreaded Sundown; and a Fight Club retrospective screening with Chuck Palahnuik and Jim Uhls in attendance.
Beyond the big-ticket items, many of the fest's screenings are free. Films such as The ABCs of Death 2, The Editor, Norway, and Future Shock! The Story of 2000AD will all be LA premieres that won't cost you a dime. Check out the full Beyond Fest 2014 lineup below.
Here's the fest trailer. The official site will have more info; in the meantime, the list of films and guests follows.
At the EGYPTIAN THEATRE
NIGHTCRAWLER presented by Backstory
2014
dir. Dan Gilroy
United States
117 minutes
Dan Gilroy in person
THE WORLD OF KANAKO / KAWAKI – LA Premiere – FREE SCREENING
2014
dir. Tetsuya Nakashima
Japan
118 minutes
THE TOWN THAT DREADED SUNDOWN presented by Shock Till You Drop and Blumhouse Productions – FREE SCREENING
2014
dir. Alfonso Gomez-Rejon
United States
85 minutes
FIGHT CLUB presented by Backstory
1999
dir. David Fincher
United States
139 minutes
FIGHT CLUB author Chuck Palahniuk and screenwriter Jim Uhls in person
STARRY EYES presented by Bloody Disgusting – LA Premiere
Dir. Kevin Kölsch, Dennis Widmyer
United States
98 minutes
Cast and crew in person
POSSESSION
1981
dir. Andrezj Zulawski
France / West Germany
124 minutes
V/H/S VIRAL + V/H/S Shorts presented by Bloody Disgusting – LA Premiere
dir. Todd Lincoln, Nacho Vigalondo, Marcel Sarmiento, Gregg Bishop, Justin Benson & Aaron Moorhead
Multiple Countries
98 minutes
Cast and crew in person
20,000 DAYS ON EARTH
2014
dir. Iain Forsyth and Jane Pollard
UK
97 minutes
TOKYO TRIBE – LA Premiere
2014
dir. Sion Sono
Japan
116 minutes
SNOWPIERCER – A Vis a Vis Event presented by the French Consulate, Meltdown Comics and RADiUS
2013
dir. Bong Joon-ho
South Korea
126 minutes
Snowpiercer creator Jean-Marc Rochette and DC Comics Publisher Jim Lee in person
HORNS presented with Fantastic Fest – LA Premiere
2013
dir. Alexandre Aja
United States / Canada
123 minutes
A Night at the Movies with THE MELTDOWN WITH JONAH AND KUMAIL featuring THE MONSTER SQUAD
1987
dir. Fred Dekker
United States
82 minutes
Jonah Ray, Kumail Nanjiani, Fred Dekker and guests in person
TEXAS CHAINSAW MASSACRE presented by Death Waltz Recording Company with live re score by Antoni Maiovvi & Umberto
1974
dir. Tobe Hooper
United States
88 minutes
HOUSE OF THE DEVIL presented by Death Waltz Recording Company
2009
dir. Ti West
United States
95 minutes
Cast and crew in person
HALLOWEEN 4K REMASTER presented by Humans From Earth
1978
dir. John Carpenter
United States
90 minutes
John Carpenter and Jamie Lee Curtis in person
ONLY GOD FORGIVES
2013
dir. Nicolas Winding Refn
Denmark / France
90 minutes
Nicolas Winding Refn in person
MY LIFE DIRECTED BY NICOLAS WINDING REFN – LA Premiere
2014
dir. Liv Corfixen
United States
58 minutes
Liv Corfixen and Nicolas Winding Refn in person
At the EL REY'S 'THE PEOPLE'S NETWORK' THEATRE / SPIELBERG THEATRE
ABC'S OF DEATH 2 – LA Premiere – Free screening
2014
dir. Larry Fessenden, Marvin Kren, Todd Rohal, Jim Hosking, Julien Maury & Alexandre Bustillo, Julien Gibney, Soichi Umezawa, Lancelot Imasuen, Jerome Sable, Robert Boocheck, Aharon Keshales & Navot Papushado, Bill Plympton, Rodney Ascher, Erik Matti, Juan Moreno, Steven Kostanski, Alejandro Brugues, E.L. Katz, Julian Barratt, Hajime Ohata, Vincenzo Natali, Chris Nash, Jen & Sylvia Soska, Dennisison Ramalho, Robert Morgan, Kristina Buozyte and Bruno Samper
Multiple Countries
125 minutes
Cast and crew in person
THE EDITOR – Free Screening – LA Premiere
2014
dir. Matthew Kennedy, Adam Brooks
Canada
102 minutes
HYENA – Free Screening – LA Premiere
2014
dir. Gerard Johnson
United Kingdom
112 min
FUTURE SHOCK! THE STORY OF 200AD  - Free Screening – LA Premiere
2014
dir. Paul Goodwin
United Kingdom
100 min
LOST SOUL – THE DOOMED JOURNEY OF RICHARD STANLEY'S ISLAND OF DR. MOREAU – Free Screening – LA Premiere
2014
dir. David Gregory
United Kingdom
97 min
R100 – Free Screening
2013
dir. Hitoshi Matsumoto
Japan
100 minutes
Lindsay Kay Hayward in person
NORWAY – Free Screening – LA Premiere
2014
dir. Yannis Veslemes
Greece
73 minutes
THE CANAL presented by Shock Till You Drop – Free Screening – LA Premiere -
2014
dir. Ivan Kavanagh
Ireland
92 minutes