Bryan Fuller And Michael Green Developing 'American Gods' For Starz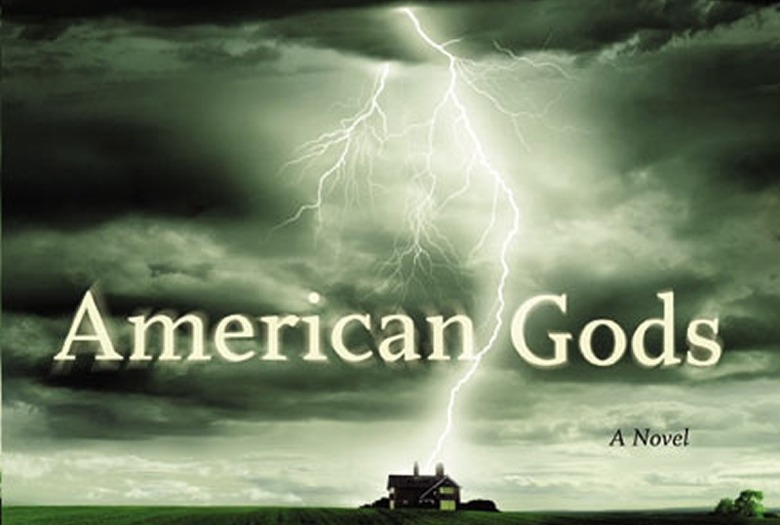 A TV series is once again in development based on the Neil Gaiman novel American Gods. The story, which tells of a conflict between two factions of gods, old and new, and the man named Shadow who is caught in the middle, was previously in development at HBO. But that effort faltered. Now, Freemantle Medi is developing a new show, which will air on Starz. Even better, the pilot is being scripted by Bryan Fuller (Hannibal, Pushing Daisies, Heroes) and Michael Green (The River, Kings, Heroes). Green will serve as showrunner, and exec produce the series with Fuller and Gaiman. There's a lot of good news in there; we'e got more info on this Bryan Fuller American Gods project below.
We don't know much more than that, other than that Starz has given the show a script to series development order. So there's a good chance this is the version we'll actually see — and with Fuller developing, it may be in very good hands. His work on Hannibal, at least, suggests that Fuller and Green won't shy from the strange bits of the story.
Here's the press release:
Bryan Fuller and Michael Green to serve as showrunners on the new scripted drama series
Beverly Hills, Calif. (July 1, 2014) – Starz has announced a script to series development of FremantleMedia North America's (FMNA) adaptation of Neil Gaiman's acclaimed urban fantasy novel "American Gods."  The pilot script will be penned by Bryan Fuller ("Hannibal," "Pushing Daisies," "Heroes") and Michael Green ("The River," "Kings," "Heroes"), who will also showrun the series. They will executive produce along with Gaiman. FremantleMedia North America will produce the series.
Starz Managing Director Carmi Zlotnik said, "'American Gods' is a project that deserves to be made.  With our partners at FremantleMedia and with Bryan, Michael and Neil, we believe we can create a series that honors the book and does right by the fans and viewers."
Commented Neil Gaiman, "When you create something like 'American Gods,' which attracts fans and obsessives and people who tattoo quotes from it on themselves or each other, and who all, tattooed or not, just care about it deeply, it's really important to pick your team carefully: you don't want to let the fans down, or the people who care and have been casting it online since the dawn of recorded history. What I love most about the team who I trust to take it out to the world, is that they are the same kind of fanatics that 'American Gods' has attracted since the start. I haven't actually checked Bryan Fuller or Michael Green for quote tattoos, but I would not be surprised if they have them. The people at Fremantle are the kinds of people who have copies of 'American Gods in the bottom of their backpacks after going around the world, and who press them on their friends. And the team at Starz have been quite certain that they wanted to give Shadow, Wednesday and Laura a home since they first heard that the book was out there.I can't wait to see what they do to bring the story to the widest possible audience able to cope with it."
 Thom Beers, CEO, FremantleMedia North America said, "'Neil Gaiman's 'American Gods' is pure genius and we couldn't be more thrilled to bring this classic to life on screen. Craig Cegielski and Stefanie Berk have put together a dream team with Fuller and Green joining Gaiman on this amazing journey. Coupled with Starz' shared passion for this project, we're confident this combination will raise the bar for drama."
Commented Bryan Fuller, "Neil Gaiman has created the holiest of holy toy boxes with 'American Gods' and filled it with all manner of magical thing, born of new gods and old. Michael Green and I are thrilled to crack this toy box wide open and unleash the fantastical titans of heaven and earth and Neil's vividly prolific imagination."
The 2001 novel has been translated into over 30 languages and earned numerous accolades including Hugo, Nebula and Bram Stoker Awards for Best Novel.  The plot posits a war brewing between old and new gods: the traditional gods of biblical and mythological roots from around the world steadily losing believers to an upstart pantheon of gods reflecting society's modern love of money, technology, media, celebrity and drugs.  Its protagonist, Shadow Moon, is an ex-con who becomes bodyguard and traveling partner to Mr. Wednesday, a conman but in reality one of the older gods, on a cross-country mission to gather his forces in preparation to battle the new deities.
FremantleMedia North America's Thom Beers, Craig Cegielski and Stefanie Berk will executive produce the series along with Bryan Fuller, Michael Green and Neil Gaiman. Vice President of Original Programming Ken Segna will be the Starz executive in charge of "American Gods." Starz will retain all network pay TV and SVOD rights to the project. FremantleMedia will distribute the series worldwide.
"American Gods" is part of the rich scripted slate that has been growing at FremantleMedia North America since CEO Thom Beers appointed Craig Cegielski as Executive Vice President, Scripted Programming, and Stefanie Berk, Senior Vice President, Scripted Programming in June 2013.  The company is currently in production on their cable scripted series, "The Returned."