'Better Call Saul' Can Be A Prequel, Sequel And Part Of 'Breaking Bad'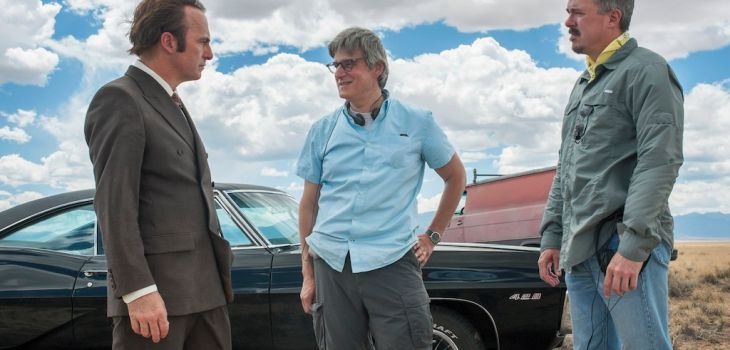 One of the biggest burning questions regarding the AMC Breaking Bad spin-off Better Call Saul has been answered. It's a prequel to Breaking Bad. And a sequel to Breaking Bad. And a part of Breaking Bad, all at the same time. Executive producer Peter Gould told the NY Daily News the show is going to have flexible timeline, which would allow the story to span decades including, yes, those where Saul (Bob Odenkirk) was working with Walter White (Bryan Cranston). Read more about the Better Call Saul timeline below.
Gould spoke to the NY Daily News about the highly anticipated show and teased the timeline:
One of the great things about having a time line which is flexible is that perhaps some of it takes place before 'Breaking Bad,' during 'Breaking Bad,' and after 'Breaking Bad'. That gives us the ability to bring back characters that were killed on 'Breaking Bad.'
That doesn't mean, however, that it's going to be reliant on Walter White. More Gould:
We want to make a show that stands on it own, is its own story and is a brand extension....We think we have a story that is worth making. ... We could never dream of the kind of success that 'Breaking Bad' had and the love we got from the fans. But (with 'Saul') at a certain point you have to do the best job you can and tell the best story that entertains you, get a good response and hope people like it."
A few weeks back, we learned AMC already ordered two seasons of the show before a single episode has aired. Unfortunately, that means we likely won't see an episode until sometime in 2015. Here's what AMC president Charlie Collier said about the show:
Production on Better Call Saul is underway and we could not be more proud of nor more excited about the work to date. We join the fans in eager anticipation for this series and today we happily confirm that our initial Saul order is for two seasons and a total of 23 episodes. When introducing any series, especially one with the DNA of Breaking Bad, there are countless factors to consider in making sure the show gets the launch it deserves. We have a strong history with Vince, Peter, Bob, the studio and so many involved with this production; we are enjoying the process on Saul and all share a focus on making it a true television event. No half measures.
What do you think about this flexible Better Call Saul timeline? How is it going to work exactly?