'The Skeleton Twins' Trailer: Bill Hader And Kristen Wiig Go Dramatic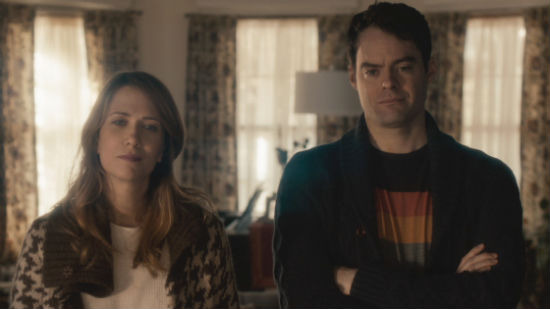 One of the most exciting and uplifting films of the Sundance Film Festival just got its first trailer. It's called The Skeleton Twins and stars Bill Hader and Kristen Wiig as estranged siblings, reunited after a tragedy, who must begin to work through their old issues. Craig Johnson directed the film, which is decidedly more dramatic than you're used to seeing Wiig and Hader, but they rise to the occasion. Each creates a full, interesting, flawed character with plenty of humor just under the surface.
The Skeleton Twins opens September 19 and now you can watch the first trailer. Check it out below.
Thanks to Roadside Attractions for the Skeleton Twins trailer.
I reviewed the Skeleton Twins at Sundance, giving it at 8.5 out of 10. Here's an excerpt:
Johnson co-wrote The Skeleton Twins with Black Swan screenwriter Mark Heyman and the screenplay hits all the beats you've come to expect from a dramedy such as this. There's a fantastic dance sequence, strong supporting characters (Luke Wilson and Ty Burrell among them), sex, secrets, lies and improvised farting in a dentist office. Well, maybe the last one isn't expected. But as the story of Maggie and Milo develops, this seems evident as a well-written, well-directed movie that probably isn't going to surprise anyone.Then again, Kristen Wiig and Bill Hader are the stars. And each gives a dynamic performance of sad, broken individuals who light up each other's lives. Their chemistry is second to none, and when these characters played by these actors are put into this story, everything around them becomes that much more interesting, funny and exciting. With such strong comedic energy on screen, you never quite know what Maggie or Milo will do next. Even when they're playing a suicide attempt, there's a vibrant unpredictability.
Do yourself a favor and catch The Skeleton Twins when it opens in September. It's really good. What did you think of the Skeleton Twins trailer?