'Snowpiercer' - What Did You Think?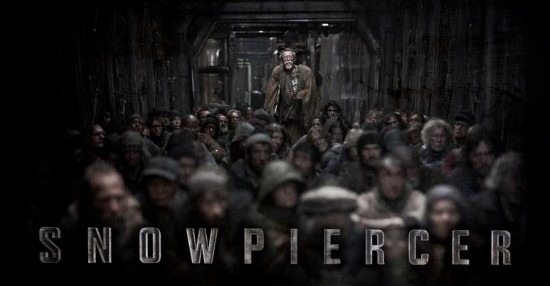 A great sci-fi movie opens this weekend, and it isn't Transformers. Bong Joon-ho's Snowpiercer is finally out in the US. The film is in limited release, but it is the original cut. That's right — Harvey Weinstein relented from his notion of drastically trimming the movie. So we don't have to live with a version of this social breakdown allegory that is shorn of twenty minutes, and stitched back together with voiceover.
Chis Evans stars in the film as one of a small group that makes up the last of the human population on Earth. These people are all confined to a train that protects the people from sub-arctic conditions outside. Within the little bubble of the train's society, the remaining civilization has broken down into two factions. The underclass resides at the rear of the train, subsisting on gelatinous processed food cubes and living in squalor. The upper class enjoys outright luxury in the forward cars. Their well-to-do-ness is not relative to the ugly conditions at the back; it looks more like a first-class ticket on the Orient Express.
Tensions come to a head as Evans leads a violent rush from back to front, and a huge cast plays into the action. Song Kang-ho, Go Ah-sung, Jamie Bell, Ewen Bremner, John Hurt, Tilda Swinton, Octavia Spencer, and Ed Harris all have roles. The action is top-notch, the characters are exaggerated to just the right degree, and Bong's directorial hand is calm and authoritative. Hopefully you'll be able to get out to see Snowpiercer this weekend; tell us what you thought of the film below.
Keep in mind that spoilers are fully encouraged in the comments below,