'Dawn Of The Planet Of The Apes' Early Reaction And Video Blog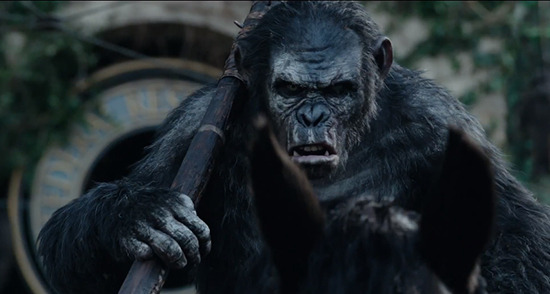 Update from Editor Peter Sciretta: I have finally been given the green light to give you my reaction to Dawn of the Planet of the Apes (in more than a tweet). Read my thoughts and watch a video blog I recorded after the screening after the jump.
Reaction to Dawn of the Planet of the Apes by Peter Sciretta:
If you liked Rise of the Planet of the Apes than you'll love Dawn — it improves on the previous film in every single way. Dawn is to Empire Strikes Back as Rise is to A New Hope. It's a darker film with more gravity. The motion capture performances in this film are next level — you thought Andy Serkis' Gollum was impressive? Wait until you see and feel the emotion inside these animal characters. And this time around we care about the struggle of the human characters.
Matt Reeves' Dawn of the Planet of the Apes is the best film of the summer (so far). And its funny that I make that claim, because Dawn doesn't feel like a summer movie at all. It's a smarter film than you might expect and it has less action than other films on the summer schedule. The first 30 minutes of this film might have a few lines of spoken dialogue, mostly apes in their community using subtitled sign language to communicate with one another — its almost a silent film with an incredible score by Michael Giacchino.
Below you can watch a video blog /Film Editor Peter Sciretta recorded with Steve from Collider:
The original post by Russ Fischer follows:
Some people have been getting an early look at Dawn of the Planet of the Apes over the past couple weeks, and today Fox gave the go-ahead to post some reactions, and there are some very enthusiastic views on the movie. Early reactions include comparisons to The Empire Strikes Back, "best movie of the summer," "incredibly smart," and "brilliant direction." Read reactions below.
We'll lead off with our own Peter Sciretta.
Dawn of the Planet of the Apes is the best movie of the Summer (so far). So smart, next level performance capture performances.

— /Film (@slashfilm) June 27, 2014
Rise is to A New Hope as Dawn is to Empire.

— /Film (@slashfilm) June 27, 2014
From there, we can see reactions from a selection of other critics and editors:
Brilliant direction, amazing performances & a great script make DAWN OF THE PLANET OF THE APES one of the years best films. Reeves nailed it

— Steven Weintraub (@colliderfrosty) June 27, 2014
We can talks apes now? Dawn of the Planet of the Apes is my favorite movie this summer. Great, great film – can't wait to see it again.

— Ryan Turek (@_RyanTurek) June 27, 2014
Also, with Dawn of the Planet of the Apes – Matt Reeves proves he's the real deal. Some beautiful, striking visual choices in this movie.

— Ryan Turek (@_RyanTurek) June 27, 2014
Dawn of the Planet of the Apes is truly great.

— Scott Collura (@ScottCollura) June 27, 2014
Dawn of the Planet of the Apes is too smart to be a summer movie. It's emotional yet visceral, exceptionally engaging and just so damn good.

— Alex B. (@firstshowing) June 27, 2014
Finally, rather than posting to Twitter, Jeff Wells posted them to his own site as a sorta-review:
Matt Reeves' excellent Dawn of the Planet of the Apes ... is the Empire Strikes Back of this franchise — a drizzly, darkly lighted dystopian noir that is nonetheless a remarkably subtle and nicely-shaded film about peace and compassion. It's basically a thoughtful and humanistic deal that pays off in dramatic terms (or as much as a middle-act trilogy film can do that, given the restrictions), but has a thematic current that laments the war impulse in all beings and species. Rather than endorse the original Pierre Boulle idea about all men being violence-prone and all apes being basically peaceful (or at least not as bad as humans), Dawn shows that both species have their warmongers and troublemakers, and that the actions of wiser, calmer peacemakers (i.e., leaders more in the Obama than the Dubya mold) are needed to chill things down. Dawn has some truly beautiful 3D photography with one exquisitely moody composition after another (when it's not flat-out nocturnal the movie is covered start to finish in misty rainfall and rainforest fog) and a generally lamenting anti-violence attitude. I was particularly struck by Andy Serkis' remarkably subtle performance as the sad and heavily-burdened Ceasar, which is easily an award-quality thing. Cheers also to Jason Clarke for lending real heart and tenderness to a role that might have felt rote or routine with another actor. Dawn is a much less predictable and more layered film than I expected.
Dawn of the Planet of the Apes opens on July 11.