'Bond 24' Brings Back 'Skyfall' Scribes Neal Purvis And Robert Wade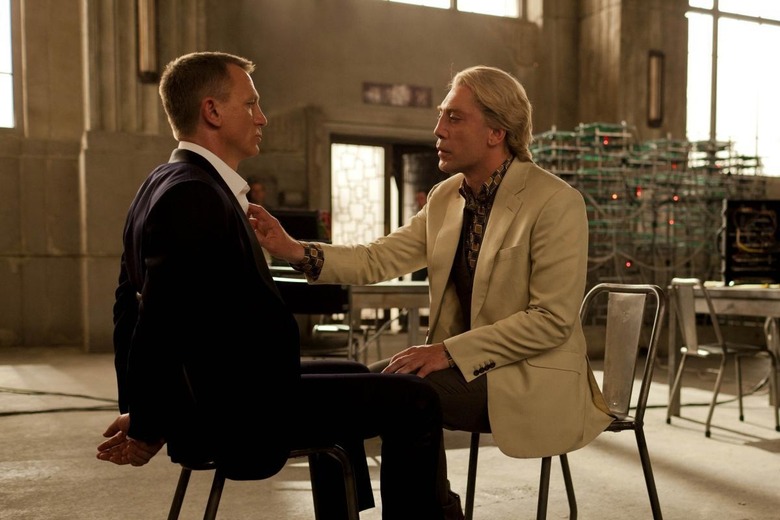 The trio that wrote Skyfall will be reuniting for its sequel after all. As of 2012, John Logan was set to pen the script all by himself, without the help of Neal Purvis and John Wade. But now, following some "polite turmoil" behind the scenes of Bond 24, Purvis and Wade are returning to give the script some "punch."
Of course, they're going to need some time to polish that script and that means production won't begin this fall as originally planned. Instead, it'll get underway in December. Hit the jump for all the latest details on the Bond 24.
Purvis and Wade are Bond veterans, having worked on the last five films: The World Is Not Enough, Die Another Day, Casino Royale, Quantum of Solace, and Skyfall. Sam Mendes brought Logan on to the last, and then re-hired only Logan for its sequel. Meanwhile, Purvis and Wade moved on to other projects like the Barbarella TV series and that Kojak reboot.
But there don't seem to be any hard feelings on either side. Bamigboye's source downplays the drama, copping only to some "polite turmoil." "Neal and Robert are only doing what was done to them. There's no blood; no scars," they said.
Still, drama or no, this does mean production will have to remain on hold until the script comes in. Shooting will now begin in December, not this fall. Once it starts, Mendes will have to work quickly — the November 6, 2015 release date has not changed, as far as we know.