Marvel's 'Daredevil' Adds Elden Henson As Foggy Nelson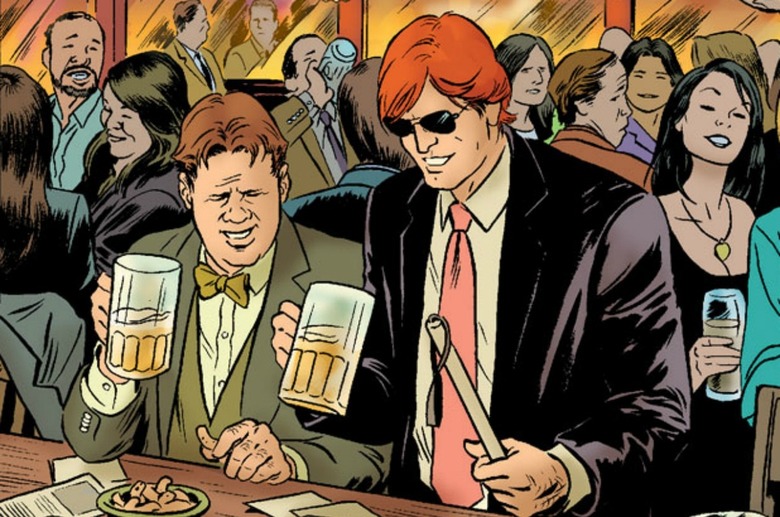 Matt Murdock's Hell's Kitchen is continuing to fill up. Elden Henson has just joined Marvel's Daredevil in the role of Foggy Nelson, Matt's friend and colleague. He joins a cast that also includes Rosario Dawson, Vincent D'Onofrio, and Charlie Cox as Matt Murdock a.k.a. Daredevil himself. Hit the jump for all the details, including the full press release.
As previously reported, D'Onofrio is playing Daredevil's nemesis Kingpin. Dawson's role has not been revealed, though we know she'll play "a dedicated young woman whose quest to heal the wounds of Hell's Kitchen brings Matt Murdock unexpectedly crashing into her life."
Henson may be most familiar to Millennials and Gen Xers as Fulton Reed from the Mighty Ducks franchise. His other credits include The Butterfly Effect, Cast Away, and the Steve Jobs biopic Jobs. He'll appear as Pollux in The Hunger Games: Mockingjay, the first half of which hits theaters this fall.
Here's the full press release from Marvel:
Marvel and Netflix are proud to announce that acclaimed actor Elden Henson has joined "Marvel's Daredevil," an all-new 13-episode series premiering on Netflix in 2015.With a diverse body of acclaimed work, including the "Hunger Games" and "Mighty Ducks" franchises, Elden Henson will play Foggy Nelson, Matt Murdock's best friend and legal partner. In a town full of crime and corruption, Foggy's friendship to the community and passion for improving it have made him a friend to its many residents from all walks of life.Elden Henson to play Foggy Nelson on Marvel's Daredevil (photo by Getty Images)ELDEN HENSON TO PLAY FOGGY NELSONPhoto by Getty ImagesHenson joins Charlie Cox (previously announced as Matt Murdock), Vincent D'Onofrio (previously announced as Wilson Fisk) and Rosario Dawson in the critically-lauded cast of "Marvel's Daredevil.""Elden plays one of the most important characters in the world of 'Marvel's Daredevil,' and we're thrilled to see Foggy Nelson brought to life by such an incredibly talented actor," said Jeph Loeb, Marvel's Head of Television. "He perfectly captures the heart and soul of this series, bringing an added resonance to Matt Murdock's fight against the injustice in their great city."Marvel's Daredevil" follows the journey of Matt Murdock, who was blinded as a young boy but imbued with extraordinary senses, now fighting against injustice by day as a lawyer, and by night as the super hero Daredevil in modern day Hell's Kitchen, New York City.Marvel's first original series on Netflix is Executive Produced by series Showrunner Steven S. DeKnight ("Spartacus", "Buffy: The Vampire Slayer", "Angel") and Drew Goddard ("Cabin in the Woods," "Lost," "Buffy The Vampire Slayer", in addition to writing the first two episodes of Daredevil), along with Marvel TV's Jeph Loeb ("Marvel's Agents of S.H.I.E.L.D.," "Smallville," "Heroes")."Marvel's Daredevil" is produced by Marvel Television in association with ABC Studios for Netflix.