Dermot Mulroney Joins 'Insidious Chapter 3;' Filming Starts In July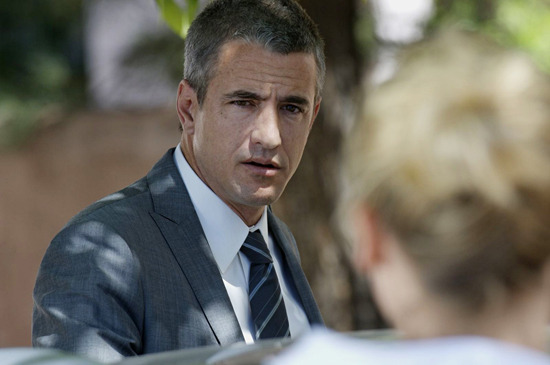 They story of the Lambert family concluded in Insidious Chapter 2, but the ending of that film teased a whole new world. What we saw there will expand in Insidious Chapter 3, written and directed by series co-creator Leigh Whannell. The new sequel is currently scheduled for release April 3, 2015.
That's pretty close, so casting has begun leading into a July start date. Dermot Mulroney is the first addition as the star of the film. Read more below.
Whannell announced the Insidious 3 casting on his Twitter account. What he didn't announce is who exactly the actor, best known for My Best Friend's Wedding, Zodiac, and The Grey, will play. The second film ended with a tease featuring the ghost hunter supporting characters of the first two movies visiting a new family. That family didn't have Mulroney as a member, so maybe he's the father of yet another family who finds themselves haunted, or with some connection to The Further.
I talked to Whannell, and director James Wan, about a sequel when Chapter 2 came out. Wan said the following:
I will say the expansion on this world that we've created [teases at a sequel]. I think if you're a horror fan you would know that the continuing aspect of potential future films is that we could create a potentially rich horror world, a very rich horror world that we can pull so many stories from.
With filming set to start in just a few weeks, expect some more casting in the coming days and more info on just how the world will be expanded.
Here's the official press release about Mulroney's casting:
Leigh Whannell official announced on his Twitter Page that Dermot Mulroney will star in INSIDIOUS: CHAPTER 3. The third film will be directed and written by Leigh Whannell. Jason Blum and his Blumhouse Productions, which produced both INSIDIOUS and INSIDIOUS: CHAPTER 2, is producing the next installment along with Oren Peli and James Wan. Steven Schneider, Brian Kavanaugh-Jones, Peter Schlessel, Lia Buman, and Entertainment One's Xavier Marchand are executive producing.Focus Features, which acquired the rights to release INSIDIOUS: CHAPTER 3 from FilmDistrict, plans to bring the film to U.S. theaters on April 3, 2015. eOne will distribute the picture in Canada, U.K. and Spain. Sony will distribute the picture in the rest of the world. Principal photography of the movie is scheduled to start next month on July 7th. Mulroney was most recently seen in AUGUST: OSAGE COUNTY and JOBS and also appeared in THE GREY.ABOUT INSIDIOUS FRANCHISEThe first INSIDIOUS told the story of Josh and Renai Lambert and their son Dalton, confronting the demons that possess the young boy. The project was picked up by Sony Pictures Worldwide Acquisitions at the 2010 Toronto International Film Festival and distributed by FilmDistrict in the US, eOne in Canada, U.K. and Spain, and IM Global in the rest of the world. It was released on April 1, 2011, and grossed $97 million worldwide. With the picture's reported $1.5 million budget, it has led to the film being called the most profitable film of 2011.INSIDIOUS: CHAPTER 2, the terrifying sequel, followed the haunted Lambert family as they sought to uncover the mysterious childhood secret that has left them dangerously connected to the spirit world. Patrick Wilson, Rose Byrne, Lin Shaye, Ty Simpkins, and Barbara Hershey reprised their roles in the film directed by James Wan, who also directed the first installment. The film grossed $160 million worldwide.For more on Insidious: Chapter 3, make sure to follow us on: https://www.facebook.com/InsidiousMovie