'Dumb And Dumber To' International Trailer: The Most Annoying Sound In The World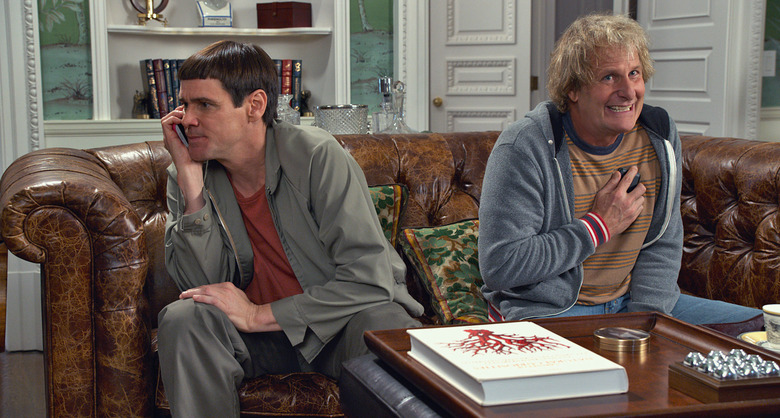 Age doesn't always mean wisdom, as evidenced in the new Dumb and Dumber To international trailer. Harry Dunne (Jeff Daniels) and Lloyd Christmas (Jim Carrey) may be twenty years older, but they've still got the combined mental capacity of an eight-year-old.
The sequel follows the pair on another wacky road trip, this time to track down the daughter that Harry never knew he had. Watch the Dumb and Dumber To international trailer after the jump. 
[via Coming Soon]
It feels weird, almost surreal to see Harry and Lloyd back in action after all this time. Happily, it doesn't look like they've lost their magic touch. Some of the jokes are so mind-bogglingly stupid, they come all the way back around to being brilliant. And some of them are just plain brilliant, like the sight gag of Harry painted like a vending machine. It gets me every time.
Dumb and Dumber To opens November 14. Kathleen Turner, Laurie Holden, Rob Riggle, Rachel Melvin, and Steve Tom also star.
Jim Carrey and Jeff Daniels reprise their signature roles as Lloyd and Harry in the sequel to the smash hit that took the physical comedy and kicked it in the nuts: Dumb and Dumber To. The original film's directors, Peter and Bobby Farrelly, take Lloyd and Harry on a road trip to find a child Harry never knew he had and the responsibility neither should ever, ever be given.
The Farrelly brothers produce Dumb and Dumber To alongside Riza Aziz and Joey McFarland of Red Granite Pictures. They are joined by fellow producers Charles Wessler and Bradley Thomas. Universal Pictures will distribute the film in the United States, Canada and select international territories.