Popular A Capella Group Pentatonix Joins 'Pitch Perfect 2'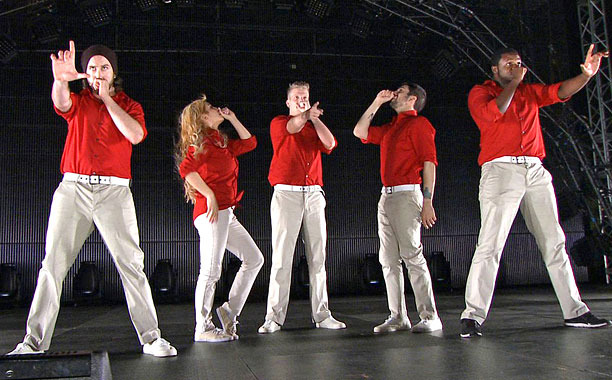 As fans scramble for information on high-profile 2015 sequels to Star Wars, Jurassic Park, The Avengers and Terminator, there's another we know even less about. That's Pitch Perfect 2, the sequel to the 2012 cult hit about competitive a capella singing. We know that most, if not all of the original cast is back, and that producer Elizabeth Banks is directing from a script by original writer Kay Cannon. Rumor has it the story takes place a few years after the original film. But really that's all we know. How do the older characters return? What are the stakes? Who are the bad guys? We know almost nothing about those things.
That last question has now partially been answered. A famous a capella group called the Pentatonix, winners of the 3rd season of NBC's The Sing-Off, have announced they're playing rivals to the Barden Bellas, which includes Anna Kendrick and Rebel Wilson.
Entertainment Weekly broke the news of the group appearing in the film. They don't have a speaking role, but are one of the groups who performs in a competition. The article has a bunch more details, but here's a key one:
The members of Pentatonix spent just one day on set in Baton Rouge, Louisiana, a 12-hour whirlwind that included full makeup and wardrobe treatment for members Scott Hoying, Mitch Grassi, Avi Kaplan, Kirstie Maldonado, and Kevin Olusola. "We're wearing some pretty interesting things," teases Hoying. "You can definitely tell it's the five of us, but what we're wearing and who we're portraying is definitely not Pentatonix." Grassi adds: "You're going to love it."
It also reveals the group arranged their own song. The producers told them what song they wanted them to sign and they arranged it themselves to keep their "Pentatonix sound."
Here's a popular Pentatonix video giving you an idea of what that sound is. They're basically Pitch Perfect for real.
So while those guys are really good, their inclusion in the movie really doesn't reveal anything. It's nothing more than a glorified, insider cameo.
For fans looking for more info on Pitch Perfect 2, the film's Twitter has been retweeting lots of stars on set, revealing small details.
Pitch Perfect 2 opens May 15, 2015.