'Playtime' Restoration Trailer: Jacques Tati's City-Building Masterpiece Returns [Updated]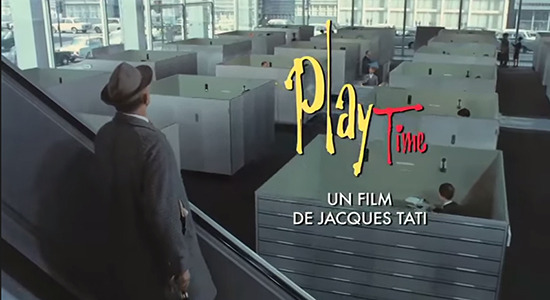 If you've never seen Playtime, the movie that almost broke Jacques Tati, 2014 could be your year. A new seven-disc box set of Tati blu-rays hits the UK in July, and Criterion should have its own set for release soon in the US. Along with the blu-rays comes a 4K restoration of Tati's incredible film Playtime. I couldn't love this film more; it's a delight for so many reasons.
Recapping the plot of Playtime is difficult, because there's not much of one. A bunch of characters (many Parisians, a group of American tourists, and Tati's alter ego M. Hulot) wind their way through a mid-'60s vision of modernized Paris, eventually ending up at the opening night of a new restaurant, which crumbles around them as a party rages into the night. A trailer for the Playtime restoration is out, and I highly encourage you to watch below.
Update: We've got a new HD trailer for the restoration, which hits Blu-ray via Criterion at the end of October, and it's even better than the one originally included over the summer. Both are now below.
Here's the French trailer, which is sadly only an SD presentation.
Now here's the new English-language HD trailer, which is stunningly gorgeous. Watch in 1080p if you can.
The virtues of Playtime are as plentiful as the people who walk through the frame.
Tati's use of physical movement and comedy is sharp and sublime; he can guide an actor to build a character with just a few movements. His patience is wonderful, as jokes and routines play out over long shots. There's very little that is subtle in Playtime, but there is so much going on at any one moment that it is easy to miss some things the first time through.
Tati wasn't afraid to create comedy that was very small. That can mean a small moment, such as two groups of different people regarding each other as they pass, or even a gag that is literally small within the frame.
I said above that the film nearly broke Tati. That's because there was no existing location suitable to house the story. So the director built his own. "Tativille" was under construction from September of 1963 to March of 1965. Two buildings were created, each with many working features. That escalator seen in the trailer was purchased and installed just for that bit. The roads were properly paved, and fitted with working streetlights and traffic lights. Other buildings seen in the film are cleverly-constructed set facades.
Playtime shot from April of '65 through October of '66. Shooting proceeded steadily for the first few months, and then increasingly sporadically. Tati would run out of money and put off shooting to raise more. He put his house on the block, along with rights to his previous films. "Jour de fete, Les Vacances, my house," he said, "everything went." The Tati biography by David Bellos says "fairly soon he was in debt to almost everyone he knew."
And yet he built Tativille to the extent it needed to exist, and he finished the film.
Unlike Tativille, which was demolished even as shooting was in its final days, the film remains. And it is beautiful.
While watching the film again last night I had some comments on Twitter. Rather than recap them all here, I've created a Storify list with some extra details and links.