New 'Teenage Mutant Ninja Turtles' Trailer: Packed With Turtle Power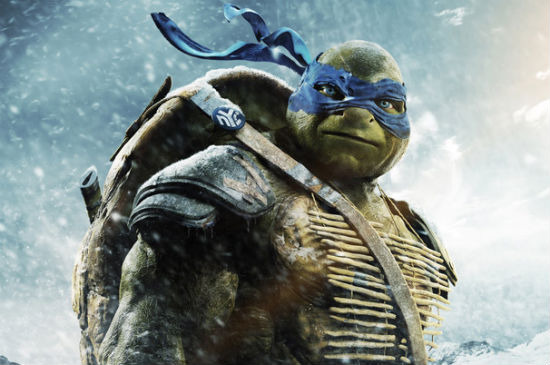 The first trailer for Teenage Mutant Ninja Turtles did a good job of holding back its stars. This new trailer for the film, which opens August 8, goes the opposite way. It is almost completely comprised of the bodies, voices, attitudes and actions of our heroes in a half-shell: Leonardo, Raphael, Michaelangelo and Donatello.
In two minutes-plus, this latest trailer is jam-packed with gadgets, pop culture references, plot reveals and more. It also shows that despite what we'd already thought, William Fichtner is not playing Shredder. Check out the new, and maybe final, Teenage Mutant Ninja Turtles trailer below.
Below, check out the latest Teenage Mutant Ninja Turtles trailer:
Lots of thoughts after watching that trailer. First of all, does every Michael Bay movie need a slow motion shot of a big structure falling from above? Second, it's kind of a shock that after months of reporting Fichtner is playing Shredder, that he's not. He seems to be in control of Shredder in some way, and Splinter/the Turtles are aware of him, but it doesn't look like Fichtner is in the armor.
Third, and most importantly, director Jonathan Liebsman has made his new, live-action Teenage Mutant Ninja Turtles film for kids. The jokes, the crazy tech, the attitude; you can tell while the film is meant to be enjoyed by everyone, it's definitely more aimed at the kids who keep the cartoon popular on TV. And that's not necessarily a bad thing. Obviously, fans have dreamt about a dark Ninja Turtles movie inspired by the original comics for a long time. This definitely has that influence, but is not that movie. Producers probably know older Turtles fans will turn out for this no matter what. It's the kids who'll mean the difference between a $100 million disappointment or $250 million hit.
Teenage Mutant Ninja Turtles is directed by Jonathan Liebesman. It stars Megan Fox, Pete Ploszek, Noel Fisher, Jeremy Howard, Alan Ritchson, Danny Woodburn, William Fichtner, Will Arnett, and Whoopi Goldberg. It opens August 8.
Here's the official synopsis:
The city needs heroes. Darkness has settled over New York City as Shredder and his evil Foot Clan have an iron grip on everything from the police to the politicians. The future is grim until four unlikely outcast brothers rise from the sewers and discover their destiny as Teenage Mutant Ninja Turtles. The Turtles must work with fearless reporter April and her wise-cracking cameraman Vern Fenwick to save the city and unravel Shredder's diabolical plan.