G.I. Joe/Transformers Movie Crossover Not Likely To Happen, Says Producer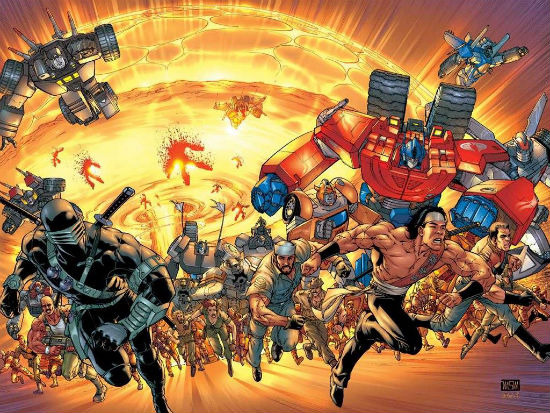 Hasbro owns G.I. Joe and Transformers. Paramount distributes both the G.I. Joe and Transformers films. Producer Lorenzo di Bonaventura produces both film franchises. All of which means the potential for a crossover is one hundred-percent there. It almost seems too easy, especially in the modern Hollywood where crossovers like The Avengers, Batman v Superman and X-Men: Days of Future Past have become the norm. Unfortunately though, with the fourth Transformers, Transformers: Age of Extinction, hitting theaters this week, di Bonaventura has stated on the record that a G.I. Joe/Transformers movie crossover isn't likely to happen.
Several outlets, talking to di Bonaventura about Transformers: Age of Extinction, asked him about the cross overs and spin-offs. First, up here's what he said to MTV:
No, we haven't spent a moment on [a GI Joe Transformers movie]. I know they did it in the comic books, but I think the reality that we're looking at is...it's hard enough to figure out how to do it alone and [then] trying to figure out how to do it together...I don't think that it's as organic as people think. I know a lot of the fans feel that way and I don't think they're wrong. I find it a harder thing to do, think about trying to combine the schedules of all the different people. So, that alone will probably stop us.
And here's the video. The GI Joe Transformers movie talk happens at 3 min:
Get More:
Movie Trailers, Celebrity News
Then, talking to IGN, di Bonaventura also shut down the idea of spin-offs, which one might think could include a G.I. Joe film, but probably hypothetically means a Optimus Prime origin story or something like that:
Honestly, there's been no discussion of it because we've been in the business of making [the core series] bigger and bigger. I think a lot of those spinoffs tend to happen when something's plateaued. We're not at that place yet, hopefully.
In general he's right. Spin-offs can mean a franchise has reached its peak, or it could mean it's looking to expand. There's a fifth Transformers film planned for 2016 and while it'll probably be a continuation of the full group, it would be cool to see something different at some point in the future.