'Hector And The Search For Happiness' Trailer: Simon Pegg Embarks On A World Tour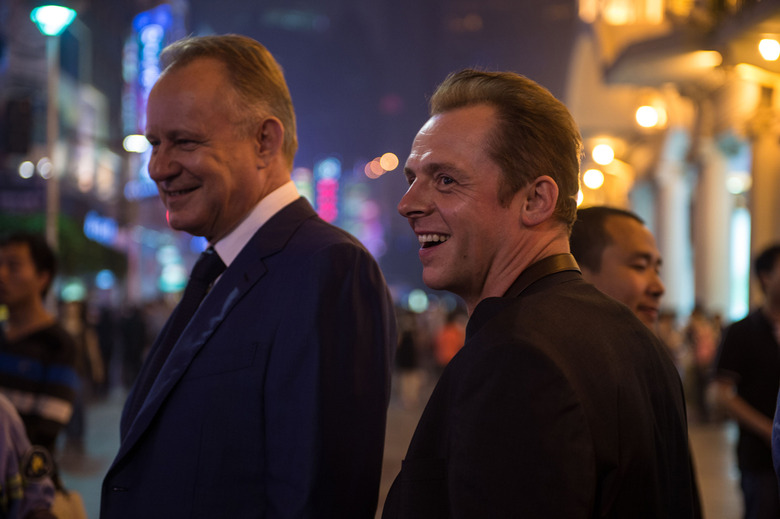 Hector and the Search for Happiness, a UK comedy starring Simon Pegg, looks an awful lot like a remix of The Secret Life of Walter Mitty. The resemblance is in the fact that, in both films, the central character goes on a globe-trotting journey to find the secret to happiness. The secrets may be different, and the origin point for each guy certainly is. (Here, Pegg plays a successful married psychiatrist who loses sight of the root of happiness, and travels the world to find it again. Based on this trailer, it seems like that pisses off his wife just a bit, as you'd expect it might.)
In the end, this is probably a very different film from The Secret Life of Walter Mitty, but this first Hector and the Search for Happiness trailer seems to want us to connect the two regardless. Watch below.
Hector and the Search for Happiness has a cast that makes it worth a look. In addition to Pegg, there are supporting players like  Rosamund Pike, Christopher Plummer, Toni Collette, Stellan Skarsgård, and Jean Reno. Even years after Beginners I'm still in the "Christopher Plummer gets to do whatever he wants" mindset, so I'm game to see his work here. And, hell, Pegg looks like he's having a grand time in some of this footage; that's appealing, too.
The film opens on September 19. Trailer via Koch Media.
Peter Chelsom directed based on the book of the same name by François Lelord.
Hector (Simon Pegg) is an eccentric yet irresistible London psychiatrist in crisis: his patients are just not getting any happier! He's going nowhere. One day, armed with buckets of courage and an almost child-like curiosity, Hector breaks out of his sheltered vacuum of a life into a global quest to find out if happiness exists. especially for Hector.