'Frank' US Trailer: Michael Fassbender Goes To Unusual Lengths To Play An Unusual Artist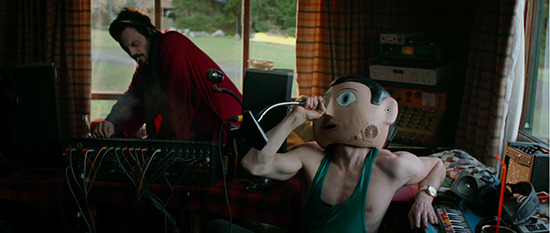 Frank is so great. I want to show it to everyone, but right now I'll settle for sharing a new Frank trailer. The film is easily in my favorites of 2014 so far, and not because it has Michael Fassbender wearing a giant fake head, or because Maggie Gyllenhaal is a deliciously brittle musician, or because Domhnall Gleeson plays a picture-perfect vision of the wannabe artist.
The film is a fave because, as weird as the movie gets, Frank is totally honest, gleefully odd, and unusually perceptive about the process of making music and art. It feels totally right. And, ok, Fassbender's performance as Frank is stellar, and the rest of the cast rises to his challenge. The Frank US trailer is out now, and you can see it below.
Frank opens on August 15. Trailer via Apple.
Frank is a comedy about a young wannabe musician, Jon, who discovers he's bitten off more than he can chew when he joins a band of eccentric pop musicians led by the mysterious and enigmatic Frank and his terrifying sidekick, Clara. Frank's uniqueness lies in the fact that he makes music purely for the joy of creating...and because he wears a giant fake head. After a rocky start, Jon ingratiates himself with the band members, and they retreat to a cabin in the woods to record an album. As his influence waxes, creative tensions mount, and the band's entire raison d'être is called into question.