Sequel Bits: 'Zoolander 2', 'Prometheus 2', 'Sin City 2', 'Fast & Furious 7'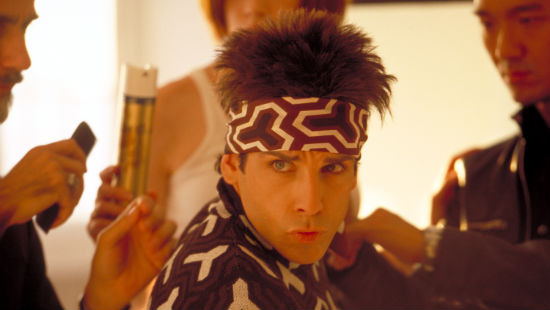 Ben Stiller hasn't forgotten about Zoolander 2. Also after the jump:
Vin Diesel
remembers his late 
Fast & Furious 7
co-star
Guy Pearce wants to come back for Prometheus 2
Several prominent Randians will cameo in Atlas Shrugged
A Transformers producer says it's early for trilogy talk
Rosario Dawson employs her feminine wiles in a Sin City scene
Koba gets mischievous in a Dawn of the Planet of the Apes clip
Watch an action-packed clip from Planes: Fire & Rescue
Laugh at the new trailer for The Inbetweeners 2
That said, don't expect to see it next summer or anything. "The film's been discussed and in some way in the works for 10 years," he pointed out. "But there are no plans to start production any time soon." [Variety, THR]
Vin Diesel, who may or may not be causing drama on the Fast & Furious 7 set, is taking a moment to remember his late co-star.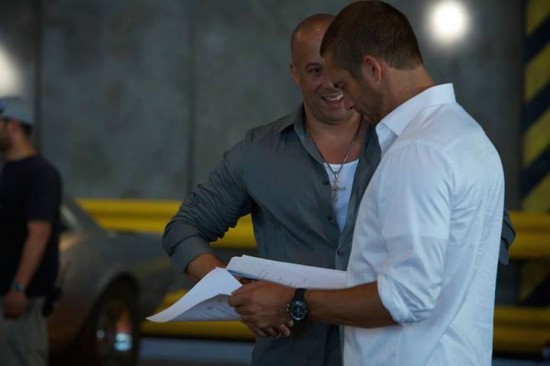 There wasn't a scene in the saga he didn't want to discuss, improve... even with just a changing of a line or adding a specific nuance to enrich a moment.
He did it with the pride of knowing, that over a decade of portraying Brian, through four directors, multiple writers and new producers he was able to maintain the inner core of the character he created. Those work ethics and drive to be both truthful, and in his own way, evolve the decade spanning character is what made his character as iconic as it has become.
He always knew I would fight for him... whether it was to protect his deal or to protect his integrity... and he knew that if it made for a better film, I was going to do whatever it took... it is why together, we won best duo... twice, 12 years apart.
With our new ambitious vfx team, the whole cast and crew has had to adjust to this awkward and uncomfortable process of pixels over people. Aside from the obvious strains it places on the director, the challenge is not to allow it to compromise what makes the character so special.
Happy Toretto Tuesday...
Fast & Furious 7 arrives April 10, 2015. [Facebook]Guy Pearce wants back in on Prometheus 2. "I'd love to go back and play that character again," he confessed. "To work for Ridley [Scott] again, you know, he's great — really wonderful to work for. So yeah, I'm very curious to see what he will do next with it."
He even has some thoughts on how his character could come back. "I just think it may not be for Peter Weyland. I mean, who knows?" he speculated. "When you look at science fiction and the ways in which you can cut the pie and things can develop — technologically speaking, etcetera — anything's possible, really, isn't it? Particularly with Ridley at the helm." [IGN]
Atlas Shrugged: Who is John Galt? is adding some unusual new cast members. Political figures Ron Paul, Glenn Beck, Sean Hannity, and Grover Norquist are set to cameo in the final installment of the trilogy, which is based on the book by their hero Ayn Rand.
Of course, if they were true Randians, they'd want nothing to do with this project, which has already failed in the marketplace and only exists due to the generous charity of other Ayn Rand fans. But that's a whole other conversation. Atlas Shrugged: Who Is John Galt? opens September 12. [THR]
Paramount is clearly looking ahead with regard to the Transformers franchise, setting the fifth installment for 2016. But producer Lorenzo di Bonaventura says it's early yet for new trilogy talk.
We're not planning on doing a trilogy. We're not not planning on doing a trilogy. It's really a one-movie-at-a-time philosophy. It feels a little arrogant. Both [director Michael Bay] and I feel like it's a little arrogant of us to presume success each time. We know our fans are really out there and they're going to come, so we presume a certain amount of success. But all the energy will be thrown into the next movie, if we're lucky enough to get there.
And it's definitely too soon for spinoff chatter. "Honestly, there's been no discussion of it because we've been in the business of making it bigger and bigger," he said. "I think a lot of those spinoffs tend to happen when something's plateaued. We're not at that place yet, hopefully. We're going to find out with the audience." Transformers: Age of Extinction opens June 27. [IGN]
Rosario Dawson wields her sexuality like a weapon in the latest clip from Sin City: A Dame to Kill For.
Is there anything more quintessentially Sin City than this combination of implied sex and stylized violence? Sin City: A Dame to Kill For hits theaters August 22. [Screen Crush]
Similarly, Koba (Toby Kebbell) knows that a good sense of humor can get him what he wants in this Dawn of the Planet of the Apes scene.
Dawn of the Planet of the Apes opens July 11. [Total Film]
Disney goes rock 'n' roll in this scene from Planes: Fire and Rescue, set to "Thunderstruck" by AC/DC.
Planes: Fire & Rescue lands July 18. [Yahoo]
In The Inbetweeners 2, the gang visits Australia. Predictably, hijinks ensue.
Star Wars fans, take note: The Inbetweeners 2 co-stars Daisy Ridley, the big question mark in the Episode VII cast. It opens August 6 in the U.K. and Ireland. No U.S. date has been set. [Empire]