Theme Park Bits: Ratatouille, Lion King, American Idol Experience, WaterWorld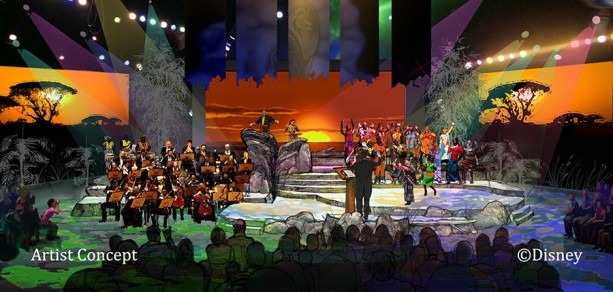 The big news this week is Universal Orlando's expansion of The Wizarding World of Harry Potter, as you may have noticed from our extensive coverage. But the Walt Disney Parks and Resorts family has plenty to report as well. After the jump:
Disney's Hollywood Studios is shutting down The American Idol Experience
No, the Indiana Jones Epic Stunt Spectacular is not closing
The Lion King is coming to Shanghai Disney Resort — in Mandarin
Go behind the scenes of the new Lion King show at Disney World
Check out Disneyland's Frozen pre-parade featuring Anna and Elsa
Watch the first ad for Disneyland Paris' Ratatouille attraction
See the special annual passholder Q&A for Universal's WaterWorld
After more than five successful years, The American Idol Experience will be coming to a close at Disney's Hollywood Studios theme park in January 2015. Our partnership with FremantleMedia and 19 Entertainment has been a great addition to the park and we are very appreciative of the amazing cast and guests who have devoted their time and talent to make this experience special and memorable. We are incredibly proud of the more than 2,000 Dream Tickets that have given guests a chance to live their very own Cinderella story and audition for 'American Idol'. This past season alone, three of the Top 13 contestants were originally discovered through The American Idol Experience and we expect the attraction to continue providing top contestants for 'American Idol' XIV in the coming year.
The number of daily shows will be limited starting in mid-July. [Disney Digital Files]
On the bright side, the Indiana Jones Epic Stunt Spectacular at Disney's Hollywood Studios is not closing its doors. Though rumor had it that the attraction was shutting down in late 2014 to make way for a Star Wars addition, Disney management has reportedly confirmed to the Indiana Jones Epic Stunt Spectacular's cast and crew that rumors of the show's demise have been greatly exaggerated. [Disney and More]
Shanghai Disney Resort sounds more enticing by the day. The theme park will reportedly feature the Lion King musical show "exactly as seen on Broadway," with one notable exception — the production will be in Mandarin, for the first time ever.
The Lion King will be staged in "a new, world-class, 1,200-seat Broadway-style theater, located in the retail, dining and entertainment area currently under construction adjacent to Shanghai Disneyland park." It marks the tenth concurrent worldwide production of the show, which has played on every continent but Antarctica. [Disney Parks Blog]Meanwhile, Disney's Animal Kingdom is running its own Lion King-themed production for its "Harambe Nights" event. The Lion King – Concert in the Wild runs about 55 minutes long and features a huge team of performers, including actors, dancers, a 25-piece orchestra, and a celebrity guest. Get a peek at the behind-the-scenes preparations below.
The Harambe Nights program runs through August 9, between 7 and 10:30 PM each night. Tickets and details can be found at Disneyworld.com/HarambeNights. [Disney Parks Blog]
As Disney's Animal Kingdom ushers in warm African nights, Disneyland is feeling the chill. In an effort to alleviate the long lines for Frozen's Anna and Elsa, the park is showing off the characters (plus Olaf) in a pre-parade ahead of Mickey's Soundsational Parade. The princesses wave from an icy float as "Let It Go" plays. Watch video footage of the presentation below.
Sure, it's not as exciting as meeting Anna and Elsa in person, but it's also less of a timesuck since you don't have to stand in line. And you still get to sing "Let It Go" if you want to. [Inside the Magic]
With La Place de Rémy (The World of Remy) due to open next month, Disneyland Paris has revealed the first ad for the Ratatouille ride, Ratatouille: L'Aventure Totalement Toquée de Rémy. The trackless dark ride "shrinks" guests down to Remy's size by putting them in a cute little ratmobile. They're then sent on a wild adventure through Gusteau's famous restaurant.
For more details, including information about La Place de Rémy's restaurant (Bistrot Chez Rémy) and boutique (Chez Marianne – Souvenirs de Paris), check out the press release. La Place de Rémy opens July 10. [Disney and More]
Our last bit of news today is the only one not connected to Disney's family of parks and resorts in some way.
Earlier this month, Universal Studios Hollywood hosted a special showing of their WaterWorld attraction, including a presentation detailing the updates to their popular WaterWorld attraction. The event was exclusively for annual passholders and their guests, but everyone else can now see the Q&A portion of it below.
A more detailed account of the event — including photos — can be found at Inside Universal.