Disney Is Making Changes To The 'Into The Woods' Movie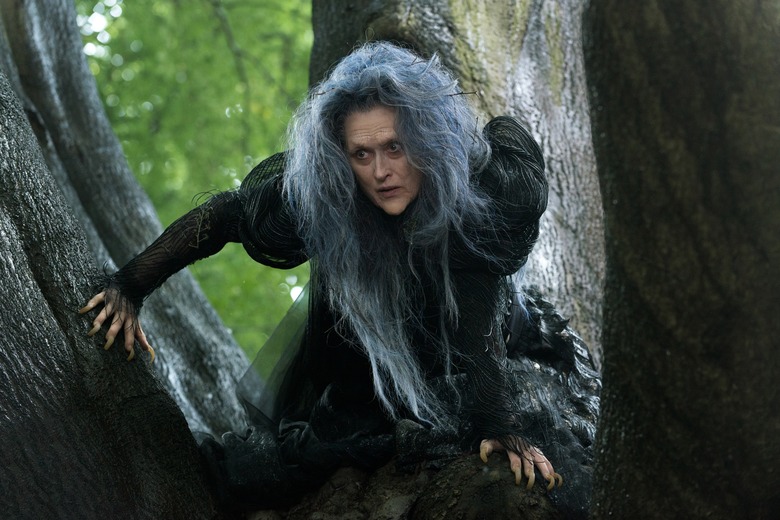 In the mid-'80s Stephen Sondheim wrote Into the Woods, a musical that became immensely popular in part because it weaved together things that are familiar to everyone: fairy tales, sex, and death. There's infidelity in the production, and some strange licentiousness, and at least one very familiar figure doesn't make it out alive. Its a story about people making choices that aren't always great. Not like it's all right there on the surface, and on the stage, but it's nearly impossible to miss the metaphor for sexual awakening in the first encounter between Little Red Ridinghood and the Big Bad Wolf.
Now Into the Woods is becoming a Disney movie, from director Rob Marshall, with actors such as Meryl Streep (above) and Johnny Depp in the cast. So what happens when Disney makes a movie adaptation of Into the Woods? If you guessed "sanitization," you guessed right.
Possible spoilers for Into the Woods follow.
So what are the changes? For one, while talking to The New Yorker, Sondheim explained that "You will find in the movie that Rapunzel does not get killed, and the prince does not sleep with the [Baker's Wife]." He defended the changes, saying, "You know, if I were a Disney executive I probably would say the same thing." Reportedly, the bits between Little Red Ridinghood and the Wolf have also been toned down.
And then there's the song "Any Moment," which is a favorite among audiences. That wraps around an encounter between the Prince (Chris Pine) and the Baker's Wife (Emily Blunt). Or it did. It's been cut. "The song is cut," Sondheim said, quickly following up with "I'm sorry, I should say, it's probably cut."
But there's a bonus in the form of new songs, written with James Lapine. "Disney said, we don't want Rapunzel to die, so we replotted it. I won't tell you what happens, but we wrote a new song to cover it."
This talk from Sondheim came during a Q&A with several musical theater teachers. And so we get this bit of sage advice, delivered to one teacher who talked about the fact that her students feel betrayed when they realize their version of the text has been cleaned up compared to the original.
But you have to explain to [your students] that censorship is part of our puritanical ethics, and it's something that they're going to have to deal with. There has to be a point at which you don't compromise anymore, but that may mean that you won't get anyone to sell your painting or perform your musical. You have to deal with reality.
The reality here is that a Disney movie (as Edgar Wright recently found with Ant-Man) means certain moral standards, no matter the original text. And while it might suck that the original text is being changed, no Into the Woods fan has to see the movie. And for those who get turned on to the production via the movie (without actually being turned on, because Disney) there will be some good surprises waiting when they go back to the original.