Paramount Announces 'Transformers 5' For 2016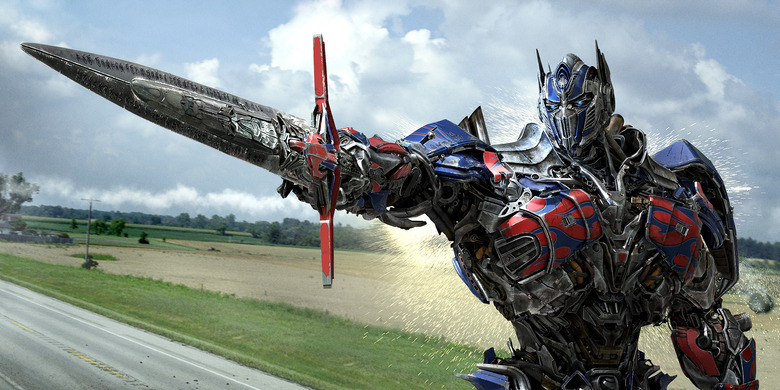 Paramount loves sequels just as much as any other studio, and at the CineEurope confab — basically the European CinemaCon — studio reps touted the company's upcoming schedule. 2016 is thick with sequels, with Transformers 5 newly announced for that year alongside Beverly Hills Cop 4, G.I. Joe 3, and Hansel and Gretel 2. Also in the 2016 announcement is Paranormal Activity 5, which represents a huge delay for the title. The film was originally slated for 2013, then pushed to October of this year, and now evidently has a more significant delay ahead.
THR reports the details from the conference.
We've known that a fifth Transformers film was likely, but typically this sort of announcement wouldn't come until after the opening of the fourth. That film, Transformers: Age of Extinction, premieres this week in Hong Kong, and opens next week, on June 27. This is the first official studio statement that another film is coming. We don't know who will write, direct, or star at this point.
The rest of the sequels in that slate have at least been announced as being in development. Beverly Hills Cop 4 is the only one with a release date: March 25, 2016.
But Paranormal Activity is the most interesting item in that list. Paranormal Activity 4 was released in 2012, and the spin-off The Marked Ones was just released this past January. That marked the longest span between films in the series. We'd previously heard that the fifth numbered entry was due later this year, seemingly putting the series back on a quick production and release track.
But if the 2016 date holds, that will put several years between the fourth and fifth films. We don't know if Paramount plans other spin-offs or expansions in the interim.
In September of last year, Gregory Plotkin, editor of all the PA films since Paranormal Activity 2, was announced to direct the fifth film. Oren Peli, who created the series, and Jason Blum will produce once more, with Katie Featherston returning to her role. Almanac writers Jason Pagan and Andrew Stark scripted, and the film was reported as shooting this past February. We're trying to confirm the delayed release window at this time.