'Avatar' Sequel Writing Roles Finally Confirmed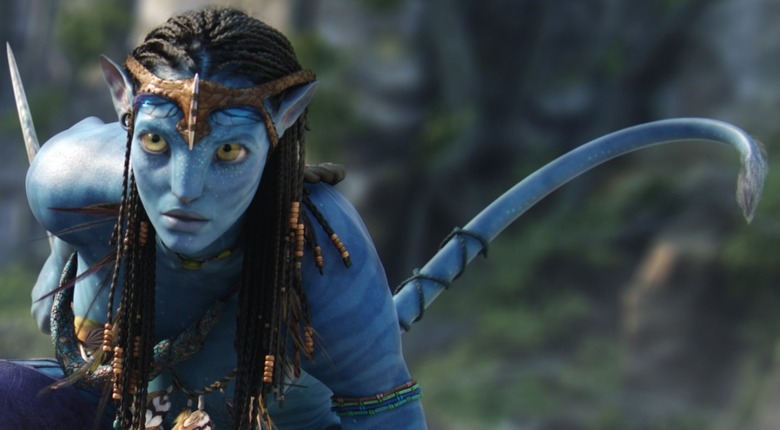 James Cameron can't write all three Avatar sequels alone. And he especially can't write them alone at the same time. That's why he enlisted the help of four writers: Rick Jaffa, Amanda Silver, Josh Friedman and Shane Salerno. The five of them sat in a room for five months, eight hours a day, breaking down the stories for each sequel. It wasn't until the end of the process that Cameron finally assigned each writer (or team) a film. In that process, it seems the breakdown of who is writing which sequel was misreported in the press. In a new New York Times article, it's been corrected. Read about the Avatar sequel writers below.
Originally, we (along with everyone else) thought Friedman was writing Avatar 2, Jaffa and Silver Avatar 3 and Salerno Avatar 4. Now it turns out only one of those is true. According to this in-depth New York Times article, here's how it breaks down.
Avatar 2 will be written by Rick Jaffa and Amanda Silver, along with James Cameron
Avatar 3 will be written by Josh Friedman, along with James Cameron
Avatar 4 will be written by Shane Salerno, along with James Cameron.
Also part of the creative process, writer Steven Gould (Jumper), who'll be doing the novelizations of each film that will be "inspired, rather than were spun off from" those stories.
The scripts have yet to be turned into 20th Century Fox, but as the NY Times article reports, a huge chunk of their financial success for the rest of the decade is riding on what's in those pages. And what's in those scripts will eventually be on screen in December 2016, 2017, and 2018, if all goes according to plan. Cameron should start filming in the Fall or Winter of this year.
As for those writers above, Jaffa and Silver are a husband and wife team best known for doing Rise of the Planet of the Apes. Friedman was the show-runner on the Cameron inspired TV show Terminator: The Sarah Connor Chronicles (which says a lot for what Cameron thought of that series, in my opinion the best Terminator "sequel" we've seen by a long shot). Then there's Salerno, who wrote the Oliver Stone film Savages and directed the documentary Salinger.
For more on how Cameron chose his writers and used the TV model to write the sequels, click this link.