'Resident Evil 6' Will Be The Last 'Resident Evil'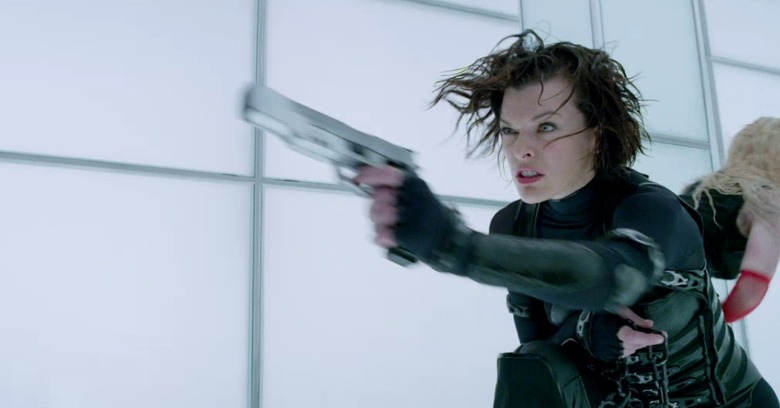 Call it the end of an era. According to director Paul W.S. Anderson, the long-running Resident Evil franchise will conclude with the upcoming sixth installment, tentatively titled Resident Evil: The Final Chapter. Hit the jump for more details on the film.
And yes, as the title indicates, Resident Evil: The Final Chapter is intended as the final chapter in the series. "That's what's on the title page, it's Resident Evil: The Final Chapter, so absolutely," confirmed Anderson.
As of last year, Sony's plan was to release Resident Evil 6 in September 2014. That obviously isn't happening anymore, since the film hasn't even entered production yet. Instead, the project's timeline will depend on when the script is turned in.
"There are no set dates for shooting yet. I think we're waiting until we have a first draft screenplay and then go from there," Anderson explained. The same goes for the release date: "I don't know [when it will be in theaters], depends how fast I write, I guess. There's no set date yet but hopefully we'll have an announcement for that soon."
Anderson remained unsurprisingly tight-lipped on what the plot of Resident Evil: The Final Chapter would be, but he did let slip that he was writing the script with 3D in mind.
I firmly believe that you have to start thinking about the 3D even in the writing process. You cannot make a great 3D movie by just—it's not some special sauce that you can sprinkle on. You make the dish and then you make hot sauce on top—it doesn't work well like that. Yes, you can do a last minute conversion. You can not shoot the movie thinking about 3D and do a last minute conversion and it can be a 3D movie, it's just not gonna be a great 3D movie. I approach my films right from the inception, I kind of write action scenes and pick out locations that I think and know—because I've done so much of it—will translate very well into 3D. Then when we build the sets, we build sets that I know will shoot well in 3D. It's really, even from this point, 3D is something I'm definitely thinking about.
The Resident Evil film series launched in 2002, with a new installment hitting every two or three years ever since. The five movies have collectively grossed over $900 million at the global box office, making Resident Evil the most successful video game movie franchise of all time.
With numbers like that, we wouldn't be surprised to see Sony try to reboot or otherwise continue the Resident Evil series in some way or another. But for now, it appears that Anderson is ready to move on.