On Set Interview: Jack Reynor And Nicola Peltz Talk 'Transformers 4'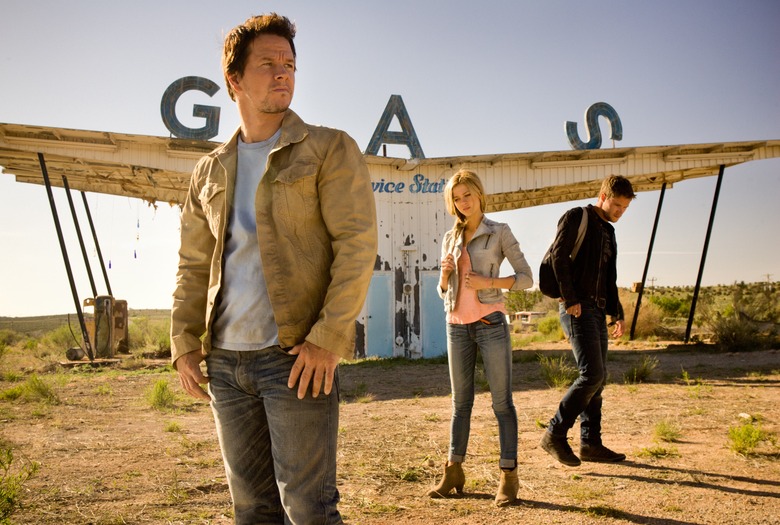 In August 2013, I flew to Detroit Michigan to visit the set of Michael Bay's Transformers 4: Age of Extinction. You can read about what I learned on the visit here. While on set, we also got a chance to talk to the cast and crew. We'll be posting those interviews throughout the week. We've posted our interviews with director Michael Bay, producer Lorenzo di Bonaventura and star Mark Wahlberg. Today we bring you an interview with Transformers 4 stars Jack Reynor and Nicola Peltz, who play love interests in the film. Nicola Peltz plays the daughter of Mark Wahlberg's character and Jack Reynor plays her secret boyfriend that her father doesn't know about. Read our Jack Reynor and Nicola Peltz Transformers 4 interview after the jump.
So what can you tell us about what you're filming today?Reynor: Well it's kind of taking place in Hong Kong... I don't know, you want to explain it?Peltz: It's a big chase scene, so we're running, but the set is really cool. We came to set and it literally looks like Hong Kong.Reynor: Yeah it's incredible. So yeah, we're destroying a lot of stuff and trying to get away from [a big threat?? Unclear audio]How much action do they let you do?Reynor: Quite a bit, quite a bit. I think Michael likes to use us as much as he can rather than doubles which is great because it's really fun because a lot of stuff blows up and we do a lot of running and it's just crazy because it's really real when you're there and you're doing it.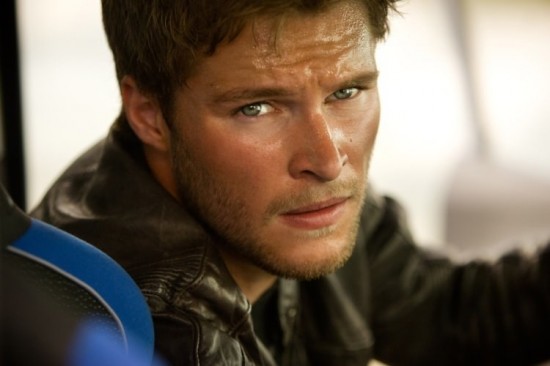 What can you tell us about our characters?Peltz: I play the daughter of Mark Wahlberg, I play Tessa. She's a teenage girl, a country girl and she's a bit of a tomboy, she's going through that stage where she's interested in boys and her dad doesn't want her to date and that's just tons of fun to play with. They're just normal people and get put in this insane, crazy situation.Reynor: For me my character is a race car driver who comes along, he's kind of the guy who Mark Wahlberg doesn't want Nicola to be dating and kind of just gets mixed up in the whole thing and is a bit of an outsider and an outcast from the group and eventually starts to integrate himself a little bit more.How's Mr. Wahlberg?Peltz: It's a ton of fun, I feel so lucky to be able to play his daughter. We're all having such a great time, he's so talented, there are so many talented people involved with the film.Reynor: I think he's enjoying playing the father rather than the punk who takes the girl, you know what I mean? It's a little role reversal for him.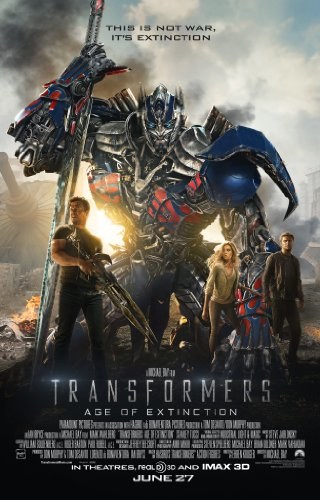 Was there any putting you through the paces or any training or mentoring Mark did for you?Reynor: Not really. Mark is just great, he gives really good advice, we got on really well and he's very interesting to watch and there is a lot to learn from him so this has been a great experience to do a movie with him.How do you like working with Michael Bay?Reynor: Bay is great, I love him. I actually love the guy, and yet he can be pretty heavy-handed and he shouts and stuff when he has to and he's actually a really really lovely guy and he's a lot of fun.Peltz: I totally agree and I love all his movies. To be able to work with him, I've learned so much, I've never learned so much on any other film, it's a great experience and we're both so lucky to be here.Reynor: I was saying last night, it is a really difficult shoot, it's very demanding, physically and mentally and in a lot of ways it's the top movie to do, but there hasn't been a single day that I've been on set that I haven't had fun. There's no big egos, there's nobody who's mean, it's just awesome and everyone is pulling together for the sake of the movie and it makes it a great atmosphere to work in.You say you've learned so much, what do you mean specifically?Peltz: I've never been in such a physically demanding film and I learn a lot just working with the camera. I've always been taught to completely ignore the camera and in this film you have to be aware of it because there's a lot of other stuff going on, it's not just a scene about you. A lot of times Michael does one shot or one take so you have to be on your game 110 percent.Reynor: Which is a really great thing because that stays with you on other features you do, this is one of those movies that shoots so quickly, I don't think there's anybody out there but Michael who could shoot this film in the time that's allocated to us and that's why he comes back every time, there's no one else who can do it, but once you get used to shooting at that pace, to do any other film is a walk in the park after that.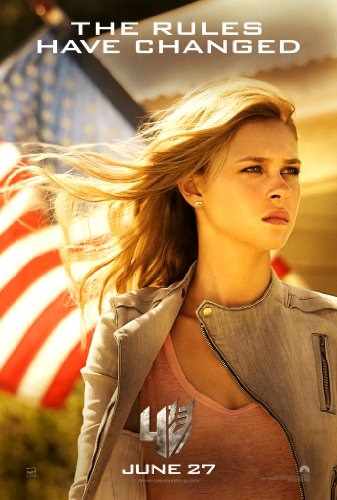 What kind of trial by fire have you been put through in terms of a production this size and the physical demands of the role?Reynor: We did a lot of training. The two of us did a lot of training back in LA and after we felt like we were ready for it physically it's just the idea of this being so big and like Nicola was saying, often times you're just shooting one take and you have to be on the ball every single time, all day long and that's what's expected of you.Peltz: And you come to set and sometimes you don't even know what you're doing, sometimes he adds things or whatever so you always have to let go of in some way preparing...Reynor: You just have to be ready to be really dynamic all the time and that's awesome because like Nic said, you never know what's going to happen, what's coming up, you're always kept on your toes which is great.What does he tell you on set about what you're seeing?Reynor: Robot's there, bombs are here, you're running that way. That's it. And that's something you learn as well and I think that's part of the genius in the way Michael works, he just does it and that's the difficult part at the start, that is the trial by fire, at the very beginning of the film, you don't know what's going on. As we have gotten used to it, it's easier to imagine and you're more there and in it and you just know. You know what he's thinking and you know what you have to do yourself.Peltz: He is really great about explaining how big Optimus' head is. He's so brilliant because he doesn't just put a piece of tape up on the wall and say 'That's what you're looking at,' he says 'You're looking at a huge creature, you don't just look at the middle of his forehead,' like when I'm talking to Optimus, you know what I mean? That's why he makes it so real.Reynor: When he does get really into it he's very descriptive and it's cool to watch because there are not many people who can imagine giant robots all around the place but he really can, he sees them. And considering the fact that he has so many people on his crew and he has so many different elements to manage in the film and the fact that he moves so fast, it's just amazing that in his head this world is alive completely and it's inspiring.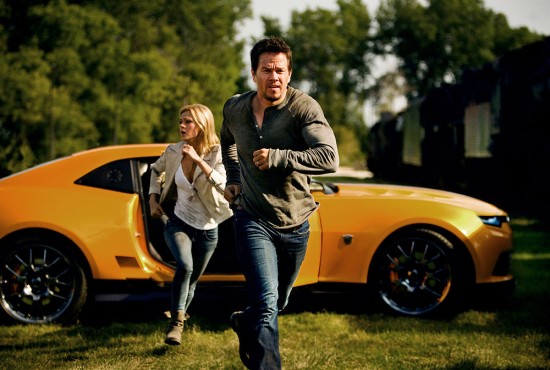 What it is about the story or this take on the franchise that you like the most?Peltz: Like I said before it's just these regular people and before anything happens in the film you see how they live their lives. I deal with normal teenager things like trying to hide my boyfriend from my dad and things like that and then you see these characters are thrown in this crazy situation and how they deal with it as normal people coming face to face with an autobot or a decepticon and that's just really interesting.Reynor: There's a really nice human dynamic in the movie that anchors it I think and well, for any of us to be in Transformers is a huge thing and privilege and honor to be here, but I really love the triangle that goes on in the movie, it gives it an anchor and it's something that's very different from the previous films, so that's what's going to be the main thing that drives it in a different direction and I think it will be a lot of fun to see.Peltz: And a lot of people can relate to it, the teenager with a dad, I'm so close with my dad I have a great relationship with him and it's, they're dealing with normal life things.How's working with Stanley Tucci?Reynor: He's the sweetest guy in the world, an incredible actor, one of my favorite actors, always has been and he's been an absolute gentleman, it's been an honor to work with him.Is it intimidating at all jumping into a fourth installment of something?Reynor: No because for us it's not a fourth film, it's a new start and a new take on the whole thing. What was there before was brilliant and those three films were excellent and encapsulated what they wanted to encapsulate but now this is a whole new thing and a whole new chapter for us to be involved in. I'm very happy it's happened.Is there room for any improv on set?Reynor: There's a bit of that. Like we were saying, you just have to go for it yourself with what you think is right and trust your own instincts with it which is difficult with a film this scale but yeah we do a lot of that and it brings a nice realistic element into the film.Any favorite action sequences so far?Reynor: There's been many, it's been crazy.Peltz: Yeah we got to go up in wires and in harnesses and I personally love heights and roller coasters, I'm such an adrenaline junkie and that was super fun. I loved that.Reynor: I'm fine with the heights. I used to not like them when we started in LA but now I'm fine with it.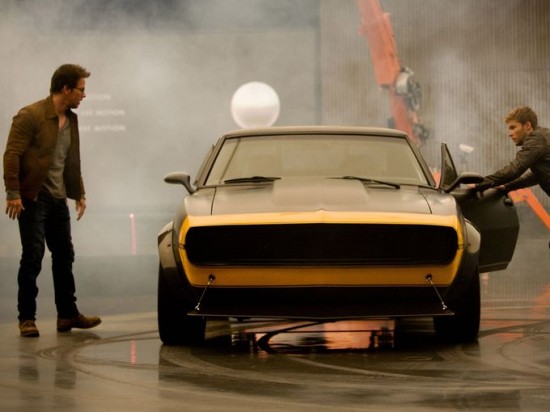 You mentioned four weeks of training, what kind of training?Reynor: A lot of boxing, working out, sprints. We did some cross training as well, TRX stuff, what else?Peltz: It was so good that we did it because it really got us prepared.Reynor: It also meant that we could build a relationship with the stunt guys and those are the most important guys to trust because your life is in their hands a lot of the time so when we did eventually go up on the wires on the day far above the ground and stuff, it's good to know the guy who's holding onto your wire is someone you trust and you know he's not going to let you fall.Do you get to use your own accent?Reynor: I can't say.How much do you get to see while you're filming?Peltz: Michael showed us a sizzle reel after seven days of shooting and we were mind [blown] it was insane.Reynor: There was a trailer there in seven days.Peltz: What Michael can cut together in seven days of shooting is insane, he's brilliant. The crew and cast, we were so pumped.Have you ever seen him sleep?Reynor: I haven't seen him sleeping, I don't think he sleeps, nobody waits.Is there a location you're excited about?Reynor: Hong Kong is going to be amazing, I've never been there before and I'm really excited to go that far into Asia. ... that blew our minds, to walk on set and see how they'd made this just incredible beautiful set just ready to blow it up. And to think they'd spent so long putting it together and once we're finished with this block [of scenes] we're doing it's done, it's gone and that's kind of sad, but the production designers, that's an art in of itself and they deserve a lot of credit because they've done an amazing job.After a shoot like this do you go off and do an Indie?Reynor: I'd like to go home and shoot a little film ... we'll see what happens in the next year but for the time being, I've been in the States for a good while but I'd like to go home and see my family and maybe shoot something there.Peltz: Yeah it kind of depends. I go by what draws me, the character or the script.