Harrison Ford Broke His Leg On 'Star Wars Episode VII' Set [UPDATED]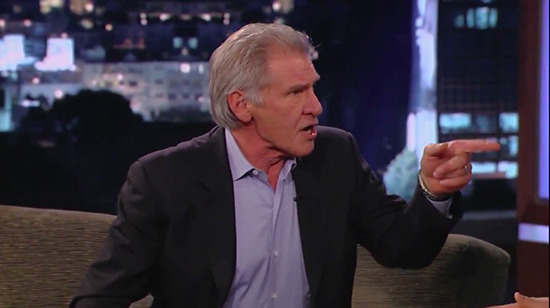 UPDATE: More sources have confirmed this is not a rumor, as it was initially framed. Changes have been made below to reflect that.
UPDATE 2: Ford's publicist confirmed to BBC News that Ford didn't just break his ankle. He broke his left leg. 
Word of Harrison Ford's ankle injury on the set of Star Wars Episode VII spread very quickly last week. Reactions ranged from blind panic to mellow dismissal as initial reports made it sound like the injury was no big deal. Now, it turns out, that might not be the case.
Multiple sources, including several gossip websites and some UK newspapers, are reporting Ford not only has a badly broken ankle, but a broken left leg, which could sideline him from filming the highly anticipated sequel for up to eight weeks.
Sources such as Perez Hilton, The Sun (via the NY Post) and the UK Mirror have been reporting on the injury. After the initial report, the last official word from Lucasfilm comes from Sky News on Friday (via SW Underworld). They confirmed Ford broke his ankle but that was the extent of the injury. A week later, the BBC News confirmed Ford's leg was broken. A publicist for Ford's wife, Calista Flockhart, also confirmed she was flying to London to be with her husband.
An anonymous source then told the Mirror on Saturday about how the injury was effecting the schedule of the film:
The initial day or two after the accident it was hard to move things around but now we have had more time we can juggle things, bring some scenes forward and push others back. There are lots of other actors in the movie so it is not a disaster. We are still confident the film can stay on schedule. At the moment it looks like Harrison is going to be off set for 6-8 weeks but the main priority is making sure he is OK.
After initially publishing this article, more sources confirmed to outlets like the Hollywood Reporter that Ford's injury will indeed sideline him for two months. Then the leg a few days later via the BBC.
Even with Ford hurt and likely unable to film multiple scenes, if the production has moved a few things around, things should stay on some kind of schedule. As of a few hours ago, things are up and running on the set of Star Wars Episode VII. Star John Boyega continues to tweet from the set: 
Do you think the Harrison Ford injury will have a bad effect on Star Wars Episode VII?