Sequel Bits: 'Fast & Furious 7', 'Dumb And Dumber To', 'Pitch Perfect 2', 'How To Train Your Dragon 2'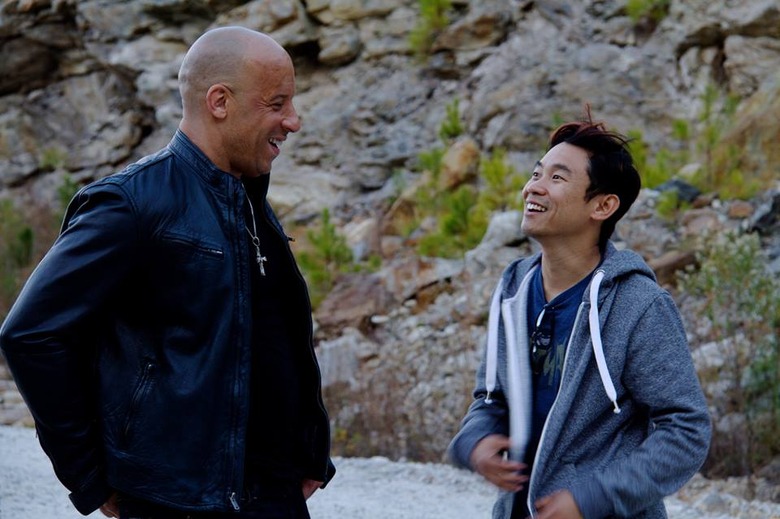 It's theoretically possible that someday we'll run out of sequel news to discuss. Today is not that day. After the jump:
Chef's Emjay Anthony also joins Insurgent
Cam Neely isn't sure if he's in Dumb and Dumber To
Here's how you can be an extra in Pitch Perfect 2
Vin Diesel might be slowing down Fast & Furious 7
William Eubank has ideas for a The Signal 2
What was Guillermo del Toro's contribution to How to Train Your Dragon 2?
Did you notice the subtle coming-out in HTTYD2?
Watch a cute trailer for Dolphin Tale 2
Dumb and Dumber To has Harry and Lloyd back in action, but what of their old nemesis Sea Bass? Cam Neely says not even he knows for sure.
There was something shot not that long ago that may make the final cut. You can shoot something and it ends up on the cutting room floor. They actually approached me after the playoffs were done and said, 'We think we have something that makes sense to put Sea Bass back (into that world).' We'll see if it makes it.
Find out whether or not Sea Bass made it in when Dumb and Dumber To opens November 14. [Cinema Blend]
If watching a fake a cappella competition is your idea of a perfect Friday night, Pitch Perfect 2 may have just the thing for you. The comedy sequel is seeking extras for a live performance taping to take place June 20 in Baton Rouge. Interested parties can register at www.pitchperfect2live.com to play audience members at a Bellas performance. [PR Newswire]
Fast and Furious 7 hit a serious roadblock when star Paul Walker passed away last year, but at the moment it's Vin Diesel who's giving the filmmakers a headache. According to various sources, Diesel has been so difficult that some wish they could digitally replace him the way they have Walker. Here's one insider:
Vin spent a whole day in his trailer one day. The next day, they waited four hours for him. He called a meeting [May 28] of studio execs to his trailer for two-and-a-half hours to say, 'What the f— am I doing here?'
Universal, naturally, denies the difficulties: "This production is working through some challenges that are historically unprecedented. The crew and cast, led by Vin, have been nothing but terrific under these circumstances." Fast & Furious 7 opens April 10, 2015. [THR]
The Signal writer-director William Eubank is already dreaming up ideas for The Signal 2. "I think it's important, especially when you have a crazy ending to always know where'd we'd go right from there," he said in a recent interview.
Specifically, Eubank wants to delve a little more into Haley (Olivia Cooke) and the change she went through in The Signal. "It's a good one and there are hints at it [in The Signal], but unfortunately in this one, it was something that will be revealed or have to be revealed in a future one if we ever get to do it, 'cause there could be a crazy sequel," he said. [Screen Crush]
Despite his many projects, Guillermo del Toro found time to make a small but significant contribution to How to Train Your Dragon 2. Major spoilers follow in the rest of this item, so skip ahead to the next one if you haven't seen the film.
According to director Dean DeBlois, his original plan was to have Gobber die in an attempt to save Hiccup. But del Toro convinced him to go a different route.
When I pitched it to Guillermo, he said, 'You know, it should be Stoick,' because that's the real handing off of the mantle. Stoick has sort of exhausted his narrative contribution, and so long as he exists, he's going to be a crutch to Hiccup becoming chief. I wanted it to be someone that was close to Hiccup, but I hadn't considered killing off Gerard Butler. But it was the right decision for the story.
For his trouble, del Toro got a "special thanks" credit. [EW]
How to Train Your Dragon 2 is so full of big reveals, you may have missed one of the smaller ones. In one scene, Gobber (voiced by Craig Ferguson) casually mentions that in addition to the conflict in a marriage, there's "one other reason" he never got hitched. The character never actually explains that reason, but director Dean DeBlois confirms what some fans suspected: Gobber is gay.
Ferguson reportedly ad-libbed the line, and DeBlois liked it enough to keep it in. "[The movie] treats it like normalcy, and that's what I really like about it," he said. "I'm proud of it. It contributes to the daring and progressive quality of the storytelling of this [planned] trilogy." And if you're wondering why it's not spelled out more clearly, CinemaBlend has the answer. [EW]
Winter made lots of people friends in Dolphin Tale, but in Dolphin Tale 2 it's a dolphin friend that she needs. Fortunately, her human pals come to her rescue again, finding a little buddy for Winter named Hope. Watch the sweet trailer below.
Dolphin Tale 2 opens September 12. [Moviefone]