First Look: Robert Downey Jr. Defends Robert Duvall In 'The Judge'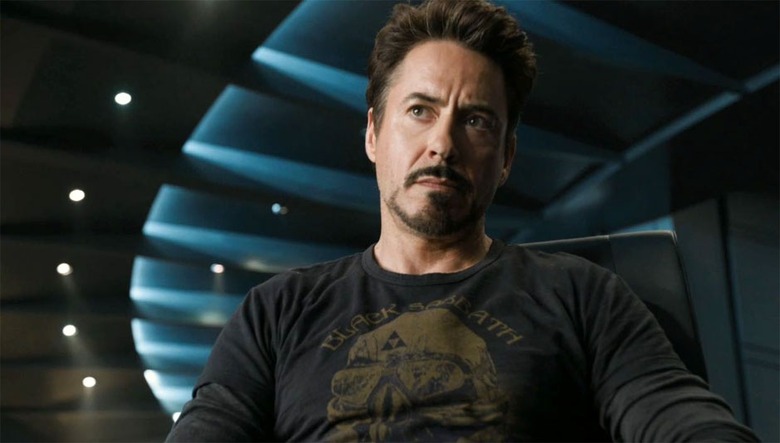 Thought Tony Stark had daddy issues? At least Howard Stark isn't around to bother him anymore. That's sadly not the case for Robert Downey Jr. in The Judge, the new drama by David Dobkin.
Downey plays a Chicago defense attorney who returns home for his mom's funeral, and then sticks around to defend his dad (Robert Duvall) in a murder trial. That'd be a tough situation in the best of cases, but it's complicated further by the old hostility between father and son. Check out The Judge first-look image after the jump.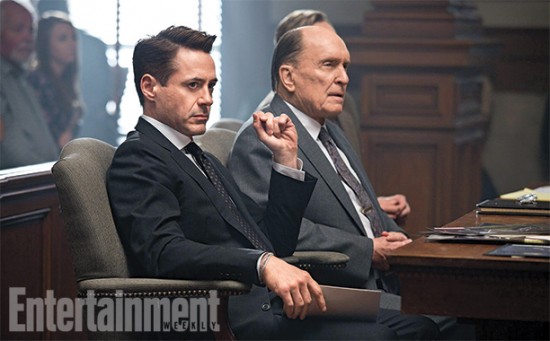 People reuniting for funerals seems to be a weirdly common minor theme in movies this year. We've also got families coming together to humorous effect in Shawn Levy's This Is Where I Leave You and Matt Weiner's Are You Here, and high school sweethearts catching up in Nicholas Sparks' The Best of Me.
In the case of The Judge, it's not a happy reunion. Duvall's title character is considered a "living symbol of justice" in his community, but a tyrant by his own family. His nastiness led Downey's character to move away years ago, but he decides to help anyway when he discovers that his dad is being accused in "what may or may not be an intentional vehicular manslaughter case," as Downey put it.
Also around, and adding to the drama, are Downey's character's brutish older brother (Vincent D'Onofrio) and "Fredo-esque" younger brother (Jeremy Strong). Despite their very different personalities, they remain staunchly loyal to their dad.
The Judge represents new territory for both Downey and Dobkin. It's the first project Downey is producing under the Team Downey banner, which he founded with his producer wife Susan Downey. And it's a rare dramatic entry from Dobkin, who's known for comedies like Wedding Crashers and The Change-Up.
We'll see how they fare when The Judge opens October 10.
Here's the full press release:
From Warner Bros. Pictures and Village Roadshow Pictures comes "The Judge," starring Oscar® nominee Robert Downey Jr. ("Tropic Thunder," the "Sherlock Holmes" films, the "Iron Man" franchise), Oscar® winner Robert Duvall ("Tender Mercies," "Crazy Heart") and Oscar® nominee Vera Farmiga ("Up in the Air," "The Conjuring"). The film is directed by David Dobkin ("Wedding Crashers").In "The Judge," Downey stars as big city lawyer Hank Palmer, who returns to his childhood home where his estranged father, the town's judge (Duvall), is suspected of murder. He sets out to discover the truth and along the way reconnects with the family he walked away from years before.Starring alongside Downey, Duvall and Farmiga are Vincent D'Onofrio (TV's "Law & Order: Criminal Intent"), Jeremy Strong ("Zero Dark Thirty," "Lincoln"), Dax Shephard (TV's "Parenthood"), and Oscar® winner Billy Bob Thornton ("Sling Blade," "Friday Night Lights"). The film also stars Oscar® winner Melissa Leo ("The Fighter," "Prisoners"), Leighton Meester (TV's "Gossip Girl"), Ken Howard ("J. Edgar," "Michael Clayton"), Emma Tremblay ("Elysium"), Balthazar Getty (TV's "Brothers & Sisters"), David Krumholtz ("This Is the End"), Sarah Lancaster (TV's "Chuck"), Grace Zabriskie (TV's "Big Love") and Denis O'Hare (TV's "True Blood")."The Judge" is being produced by Susan Downey (the "Sherlock Holmes" films), David Dobkin, and David Gambino ("The Brave One"), with Herbert W. Gains, Robert Downey Jr., Jeff Kleeman and Bruce Berman serving as executive producers. The screenplay is by Nick Schenk ("Gran Torino") and Bill Dubuque, story by Dobkin & Schenk.Dobkin's behind the scenes creative team includes Oscar®-winning director of photography Janusz Kaminski ("Saving Private Ryan," "Lincoln"), production designer Mark Ricker ("The Way Way Back," "The Help"), editor Mark Livolsi ("The Blind Side") and costume designer Marlene Stewart ("Hansel & Gretel: Witch Hunters," "Tropic Thunder"). The music is by 12-time Oscar® nominee Thomas Newman ("Saving Mr. Banks").A Warner Bros. Pictures presentation, in association with Village Roadshow Pictures, a Big Kid Pictures/Team Downey production, a film by David Dobkin, "The Judge" is scheduled for release on October 10, 2014, and will be distributed by Warner Bros. Pictures, a Warner Bros. Entertainment Company, and in select territories by Village Roadshow Pictures.