'True Detective' Season 2 Casting Rumors Are All BS, Says Series Creator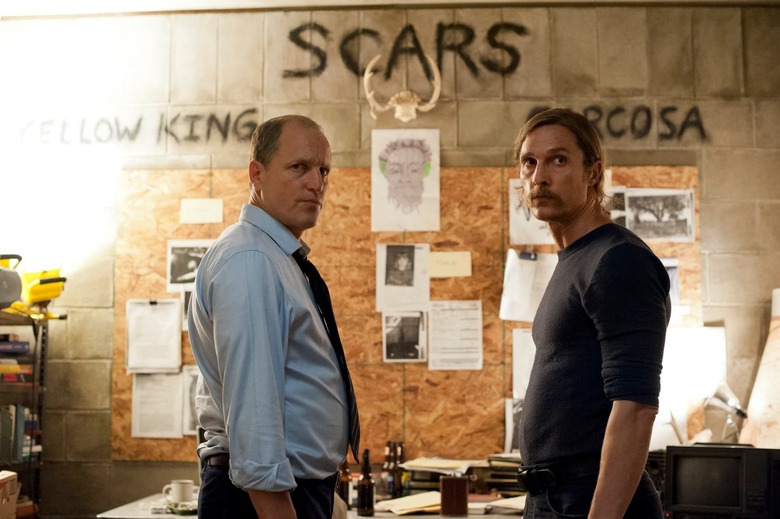 Rumors have been flying fast and heavy about who might lead True Detective Season 2, but series creator Nic Pizzolatto claims they're all nonsense. "Literally, not a single rumour about casting that has been printed anywhere has any truth to it whatsoever," he said firmly.
Whatever the new season ends up looking like, though, you should try to enjoy it while you can. Pizzolatto also admitted that he doesn't envision True Detective lasting more than three seasons, because making it is so "incredibly exhausting." Hit the jump to read his comments.
He stressed that no one had been cast yet, adding, "I've talked to one person about it, possibly, and that has been it. We haven't cast anybody. I have a secret list and that's it." Pizzolatto plans to find a director before he locks in any actors.
Nor should you buy into the speculation that Season 2 will have a female-led cast. "Again, it's a rumour with no basis in fact," he said. "There is a strong (lead) female character. But I wouldn't say it is female-led or anything like that."
In fact, maybe we shouldn't even take Pizzolatto's own comments at face value. While he previously stated the new story arc would have three leads, he now confirms that there will be four main characters. Presumably the stuff about "hard women, bad men and the secret occult history of the United States transportation system" hasn't changed.
Pizzolatto is currently hard at work on Season 2, having penned the first two episodes. And he's apparently got a few ideas already for Season 3. But there's only so long he wants to keep up that pace.
Every season, I'm essentially creating a brand new TV show. It can't have any growing pains like a regular first season. If it works it has to work right out of the box. That's incredibly exhausting. I mean, the job is exhausting to begin with, but it's doubly exhausting and I'm writing every episode. I can't imagine I would do this more than three years. I mean, I'd like to have a regular TV show. We'll have some fixed sets, regular actors and I could bring in people to help and I don't have to be there every second. It'd be great.
True Detective Season 2 is expected to premiere on HBO next year.