Star Wars Bits: Harrison Ford Injured On 'Episode VII' Set; Boba Fett, Gareth Edwards, Phineas And Ferb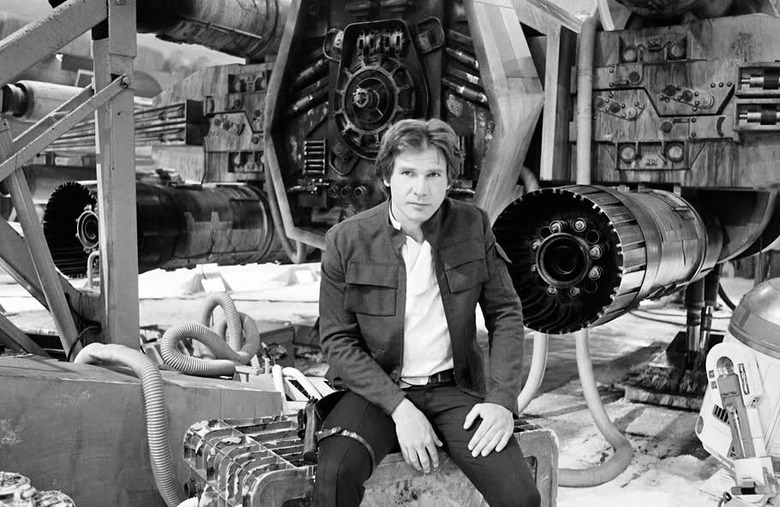 Everything from actual on-set news and casting, to television and merchandise is in this edition of Star Wars Bits. Below, read about the following:
Harrison Ford is injured on the set of Star Wars Episode VII.
Lawrence Kasdan is again rumored to write Boba Fett spinoff.
Phineas and Ferb: Star Wars gets a premiere date.
Gareth Edwards talks his Star Wars spin-off, which will be shot in the UK.
See a new image of the Hot Wheels Darth Vader Comic-Con exclusive.
John Boyega's father may have a role in Episode VII.
The Abu Dhabi Episode VII sets are likely to be preserved.
Lego Star Wars Lightsaber Set gets 10,000 supporters.
Buy a replica of Han Solo's Bespin Outfit.
Four new Star Wars art pieces will be out Friday from Acme Archives.
Variety reports Harrison Ford suffered a "bad ankle injury" on the set of Star Wars Episode VII in London Wednesday was airlifted to the hospital. Filming will continue in his absence. According to the report, "a hydraulic door reportedly fell down and hit him, possibly fracturing his ankle." Since they're still shooting, hopefully the hospital trip is most likely a precaution and all will be fine. But if Solo is seen sitting for a good portion of the movie, now we know why.
The team as Schmoes Know have a "Hot Scoop" that the spin-off film Lawrence Kasdan has been writing is, indeed, about Boba Fett. Now, we'd heard exactly that back in January and even heard some rumors of struggles with the film, so it's not really super big news. It's just more clarification, which they admit. What it does, however, put in question is this rumored spin-off schedule.
If Boba Fett is supposed to come out in 2016, it would suggest it is the film Gareth Edwards is directing. (More on him below.) But Gary Whitta is writing that movie, so it can't be Boba Fett. Plus if you assume Josh Trank is directing Simon Kinberg's movie (an assumption based on the fact that Trank and Kinberg have a working relationship via Fantastic Four) that suggests Kasdan's Boba Fett film wouldn't be out until 2020. Lots to digest there.
The Phineas and Ferb Star Wars special, cleverly titled Phineas and Ferb: Star Wars, will finally debut on July 26 on Disney Channel. It'll be followed an extended preview of Star Wars Rebels. You can read more about it on the Hollywood Reporter and here's an image.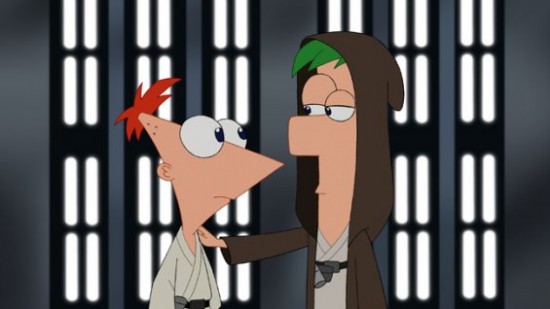 Since Gareth Edwards was announced as the director of the 2016 Star Wars spin-off (which will be filming in the UK, if you hadn't heard), he hasn't had a chance to say much. He broke his silence in a new interview with the Hollywood Reporter:
I am very, very lucky, living in a dream job at the moment. I'm not allowed to talk about it, it's all very secretive, but it's a dream come true. Star Wars is the reason I got into filmmaking, so to be given this opportunity is like a dream. Now the pressure is on.
Though we got a glimpse of it a few days back, USA Today has debuted a new image of the Hot Wheels Darth Vader that'll be an exclusive at San Diego Comic-Con. The packaging is better than the car.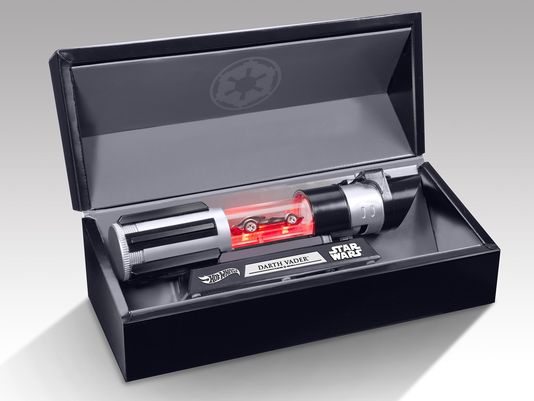 A few days back, John Boyega took to Twitter to say the following.
It wasn't an inside Star Wars joke, though. Boyega later confirmed he meant his actual father. Does that mean he has an on screen role? Is helping behind the scenes? It wasn't clear.
Production on Episode VII finished in Abu Dhabi a few weeks ago, but according to The National (via SW7News) the local government is hoping to preserve the locations. They plan in to move them to a museum so fans can check them out in the future. That might also help Disney with filming any future episodes.
On a lighter note, this awesome Lego Ideas project for Lego Lightsabers just hit 10,000 votes which means it'll be put up for review. Since they already have a license with Star Wars, I think it has a good shot of making it to the public. Read more here, but here's an image.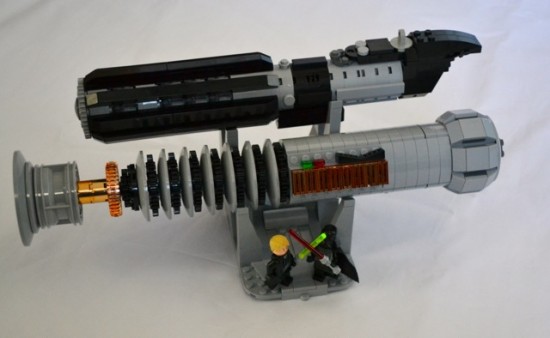 For my money, there's no cooler dresser in sci-fi history than Han Solo in The Empire Strikes Back. Even that Carbonite suit looks great at the end. Before that, though, Han had what has come to be a signature blue and brown look. Now Anovos (via JediNews) is taking pre-orders for a replica of that Bespin look. It's only $960.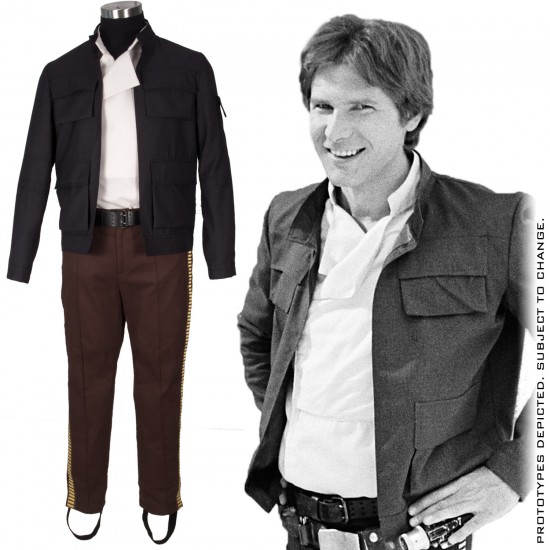 And if that's a bit too expensive, Acme Archives are releasing four new Star Wars art pieces on Friday at 10:30 a.m. on acmearchivesdirect.com. Head to the Star Wars blog for more specifics on each piece.