Kristen Wiig To Direct, Write, And Star In Female Friendship Comedy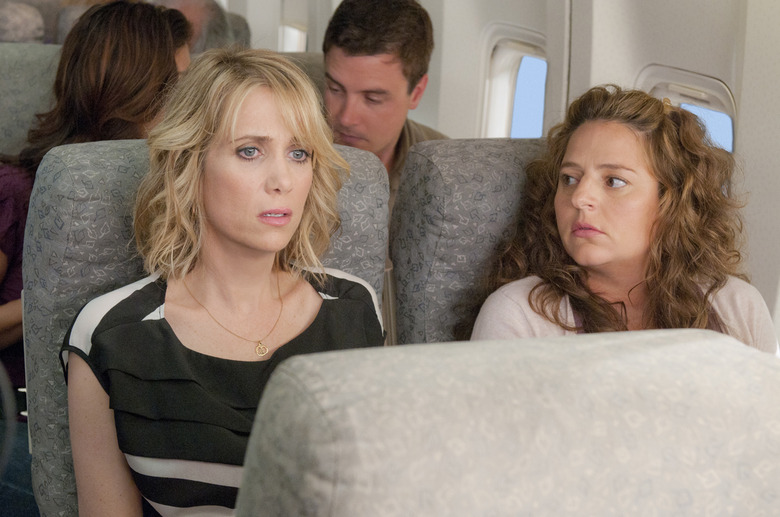 Like so many actors before her, Kristin Wiig is making the leap into directing. Her first feature will be an untitled comedy for TriStar, which she'll pen with Bridesmaids co-writer Annie Mumolo. And as if they didn't have enough to do already, Wiig and Mumolo are also set to star. Hit the jump for more details on the new project.
That premise sounds just perfect for Wiig and Mumolo, who proved with Bridesmaids that they know all about the intricacies of female friendship — and what's more, that they could explore those themes in a crowd-pleasing fashion. Bridesmaids earned $288 million worldwide and was nominated for two Oscars, including one for Wiig and Mumolo's screenplay.
TriStar envisions the project as a wide-release comedy but beyond that the studio isn't saying much about the tone. "Kristen and Annie assured me that the film will be a searing and depressing drama, which is what the world needs right now," joked TriStar chairman Thomas E. Rothman.
Though the move is a big one for Wiig, she says it's been a long time coming. "I've been wanting to direct for some time now. This seems like the perfect first project," she told the paper.
Wiig added that she and Mumolo were waiting for "the right time and the right idea" to write another screenplay together, and that "both of those elements have come together" on this new project. Now, they say, "We will be going into a cave for months to finish. An actual cave. We found one that's nice and big. We're putting a couch in there."
Since Bridesmaids, Wiig has been busy with everything but a Bridesmaids sequel. She's acted in indies like Friends With Kids and Hateship Loveship, as well as big studio movies like The Secret Life of Walter Mitty and Anchorman 2. She's even had time to do some TV work, appearing in Netflix's Arrested Development and IFC's THe Spoils of Babylon. She'll next be seen opposite Bill Hader in The Skeleton Twins, which opens this fall.
Mumolo has cropped up Judd Apatow's This is 40 and the NBC sitcom About a Boy, among other things. She recently penned the Joy Mangano biopic Joy, which David O. Russell plans to make his next film. Jennifer Lawrence is attached to play the lead.