'Dawn Of The Planet Of The Apes' TV Spot Lays Out The Story So Far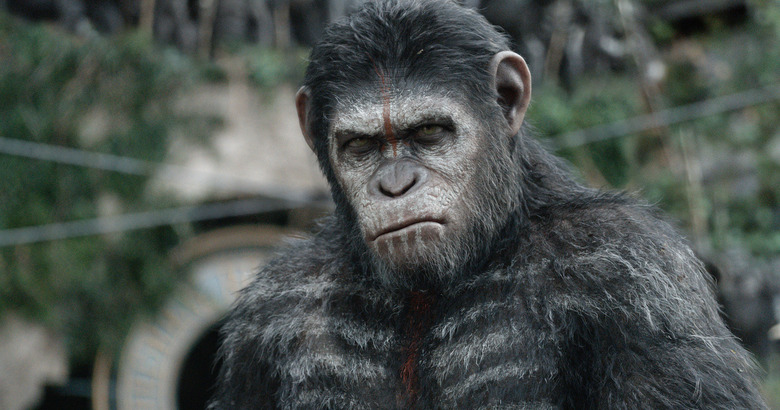 By the time Dawn of the Planet of the Apes lands in theaters this summer, it'll have been a good three years since the release of Rise of the Planet of the Apes. You'd be forgiven if you forgot a few things in the interim.
Fortunately, the latest Dawn of the Planet of the Apes TV spot is here to get you all caught up. The new promo lays out the story so far, explaining how mankind and apekind got to this point in the story, and hints at the conflict that's still to come. Watch it after the jump.
Although Rise star James Franco makes a cameo in the movie, Dawn really focuses on a whole new group of human survivors including Gary Oldman, Jason Clarke, Keri Russell, and Kodi Smit-McPhee. On the ape side, Caesar (Andy Serkis) has been growing a large community of intelligent apes.
Unfortunately for the apes, it turns out that some of these people are still nursing a grudge about all the stuff that happened in the last film. Unfortunately for the humans, these apes have access to horses and machine guns, and aren't above riding the former while wielding the latter.
Of course, it doesn't take a genius-level I.Q. to guess how this eventually shakes out — just a passing familiarity with the classic film Planet of the Apes. But it should be fun to watch the battle unfold in the meantime.
Dawn of the Planet of the Apes premieres July 11. Matt Reeves directs, and Judy Greer, Toby Kebbell, and Terry Notary also star.
A growing nation of genetically evolved apes led by Caesar is threatened by a band of human survivors of the devastating virus unleashed a decade earlier. They reach a fragile peace, but it proves short-lived, as both sides are brought to the brink of a war that will determine who will emerge as Earth's dominant species.