'Dumb And Dumber To' Trailer: Lloyd And Harry Are Back And Dumber Than Ever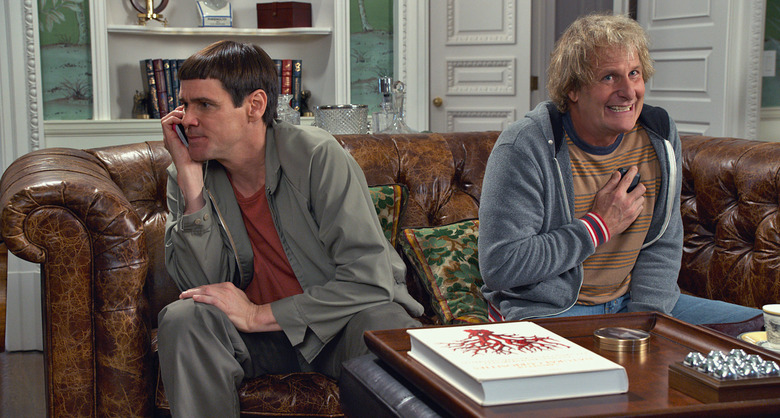 Dumb and Dumber To is actually happening. It's incredibly hard to believe but it's true. Twenty years after the release of the comedy smash by the Farrelly Brothers, Jeff Daniels and Jim Carrey are reprising their roles to continue the story of numbskulls Harry and Lloyd. Set in real time after the events of the first film, the duo set off to find Harry's daughter. In the process, of course, they do lots of really dumb stuff.
The first trailer is out and it almost feels like a Saturday Night Live skit. This is actually real? Yes, it is, and it'll hit theaters November 14. Below, watch the first Dumb and Dumber To trailer and see some new photos too.
Thanks to Jimmy Fallon for debuting this trailer.
Dumb and Dumber To Trailer
From early test screenings, I heard really good things about this film but — I have to admit — I didn't laugh once during this trailer. It felt really, really awkward. However, I'm going to chalk that up to the shock of seeing Daniels and Carrey in these roles once again as well as the fact this is an R-rated movie. A green-band trailer surely can't show the best of the the Farrellys have to offer.
Here are some new photos followed by a description. What did you think of the Dumb and Dumber To trailer?
Jim Carrey and Jeff Daniels reprise their signature roles as Lloyd and Harry in the sequel to the smash hit that took the physical comedy and kicked it in the nuts: Dumb and Dumber To. The original film's directors, Peter and Bobby Farrelly, take Lloyd and Harry on a road trip to find a child Harry never knew he had and the responsibility neither should ever, ever be given.
The Farrelly brothers produce Dumb and Dumber To alongside Riza Aziz and Joey McFarland of Red Granite Pictures. They are joined by fellow producers Charles Wessler and Bradley Thomas. Universal Pictures will distribute the film in the United States, Canada and select international territories.