Watch David Lynch Interview Leland Palmer In 'Twin Peaks' Bonus Feature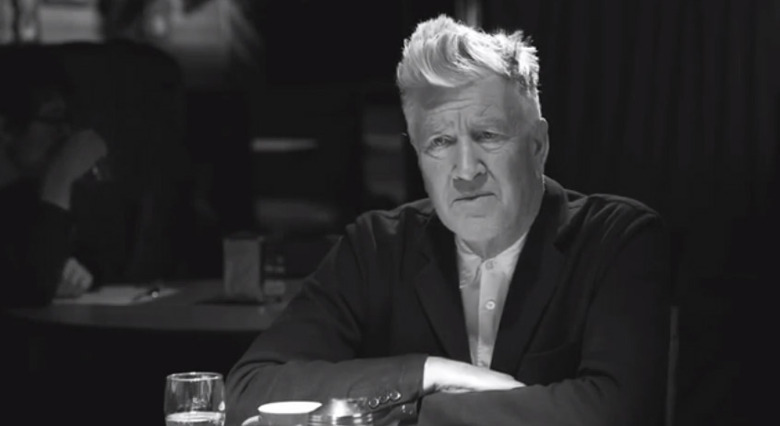 "You've been dead for around 25 years now." So begins this interview between Twin Peaks co-creator David Lynch and Leland Palmer. Specifically, that's Lynch speaking not to the actor Ray Wise, but to Wise in character as his Twin Peaks alter-ego. It's part of what is sure to be the strangest bonus feature on the upcoming Twin Peaks: The Entire Mystery Blu-ray set, in which Lynch speaks to the Palmer family as they exist now. (Or something.) Now you can watch a clip of the interview below. It's the first new legit Twin Peaks material in many years, and that alone warrants a look.
Each Tuesday until the July 29 release of the Blu-ray set will see the release of a new piece of bonus content such as this one. Here, the look Lynch gives Leland after he talks about his wife's laugh (see the header pic) is so priceless. Obviously you'll get a lot more mileage out of this if you've seen the series, but if you haven't this won't totally spoil things.
[via CBS and the Twin Peaks Twitter account]
As a bonus, here's a video comparison between the previous DVD transfer and the 1080p transfer on the new blu discs. The official copy that accompanied this video suggests that we won't see a universal HD upgrade across the series, but some is better than nothing. This is what the YouTube page says:
Locating original picture negative that was thought to be lost, CBS was able to upgrade image quality on numerous shots throughout the TV series for the new Blu-ray release.
On stunning High Definition Blu-ray, Twin Peaks: The Entire Mystery is a comprehensive collection with every episode from the complete television series; both the U.S. and international versions of the series' Pilot; the North American Blu-ray debut of David Lynch's follow-up feature Twin Peaks: Fire Walk With Me; and nearly 90 minutes of deleted and alternate scenes from the film. The set also features newly transferred Log Lady introductions for each episode; picture upgrades to many shots in the TV series; a new featurette with series creator Lynch and the actors who portrayed the Palmer family which includes a mesmerizing return to the lives of their characters today; and hours of material never before released on Blu-ray, which dives into the fascinating story behind the celebrated pop culture classic.