Sequel Bits: 'Jurassic World,' 'Insurgent', 'Fast & Furious 7', 'Sharknado 2'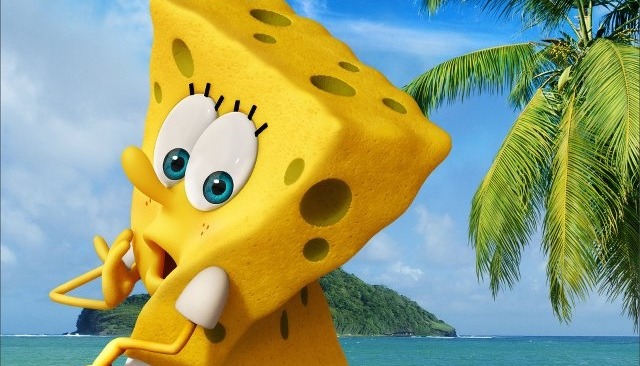 Today's Sequel Bits involves the sea floor-dwelling creatures of Bikini Bottom, the high-flying dragon riders of Berk, and everyone in between. After the jump:
Is China getting sick of effects-heavy Hollywood sequels?
Rumor has it Jurassic World will feature pterodactyl riders
Insurgent casts a couple more Dauntless characters
Paul Walker's brother may be in future Fast movies
Ernie Hudson says Ghostbusters 3 will shoot soon
Brittany Snow tweets from the set of Pitch Perfect 2
Get ready for lots and lots of Sharknado tie-in merchandise
SpongeBob has a Coppertone moment in a new poster
Watch the trailer for the video game Alien: Isolation
See a How to Train Your Dragon 2 featurette about the score
The group found that grosses for imported films are falling due to "the lack of variety in recent imported films, many of which are sequels and re-releases, and heavily driven by special effects." Instead, audiences are turning to "diverse and relatable" homegrown movies. If this trend keeps up, who knows — Sequel Bits could become a thing of the past. [TheWrap]
Jurassic World may be taking a page out of the How to Train Your Dragon playbook. According to a new rumor, the dino sequel will feature a "genetically modified pterodactyl rodeo rider/onlooker," though it's unclear whether it's the rider or the pterodactyl who's genetically modified. Jurassic World opens June 12, 2015. [JoBlo]
Two more actors have been initiated into the Divergent follow-up Insurgent. Aussie actor Keiynan Lonsdale and Parenthood actress Rosa Salazar are set to play Uriah and Lynn, respectively, two Dauntless initiates who befriend Shailene Woodley's Tris. Director Robert Schwentke is currently shooting the film in Atlanta for a March 20, 2015 release. [Deadline, THR]
Following Paul Walker's death last fall, his brothers Cody and Caleb Walker were called in to help complete his role in James Wan's Fast & Furious 7. But it seems Cody's involvement won't stop there.
The word is that Cody could play a role in future installments. Paul's character Brian would retire, while his younger brother would join Dominic Toretto's crew. We'll have a better idea of where the story is headed once Fast & Furious 7 opens April 10, 2015. [Daily Mail]
Ghostbusters 3 has suffered a countless stops and starts over the years, but star Ernie Hudson sounds optimistic that it'll come together for real in the near future. According to him, the long-gestating sequel will shoot either this fall or next spring. While he admits that that schedule could change, he insists the movie is "definitely happening." [CinemaBlend]
The Barden Bellas may be incorporating some twerking into their a cappella routine for Pitch Perfect 2, if Brittany Snow's recent tweet is a hint.
Or it could just be that Snow was twerking for fun. Either way, we look forward to checking out the group's new moves when the comedy sequel opens May 15, 2015. [Twitter]
When Sharknado 2: The Second One touches down this summer, it'll bring with it a veritable flood of tie-in merchandise. Syfy and its partners have announced dozens of Sharknado-themed products to hit Walmart, Hot Topic, Spencer's and other retail outlets this summer.
Those include t-shirts, jewelry, shot glasses, swim trunks, Christmas stockings... basically, you name it, they're putting a Sharknado on it. The sequel premieres on Syfy July 30. [TheWrap]
SpongeBob SquarePants leads a pretty sweet life down in Bikini Bottom, but it appears he'll be coming up to the surface for The SpongeBob Movie: Sponge Out of Water. See him have his Coppertone moment on the first poster below.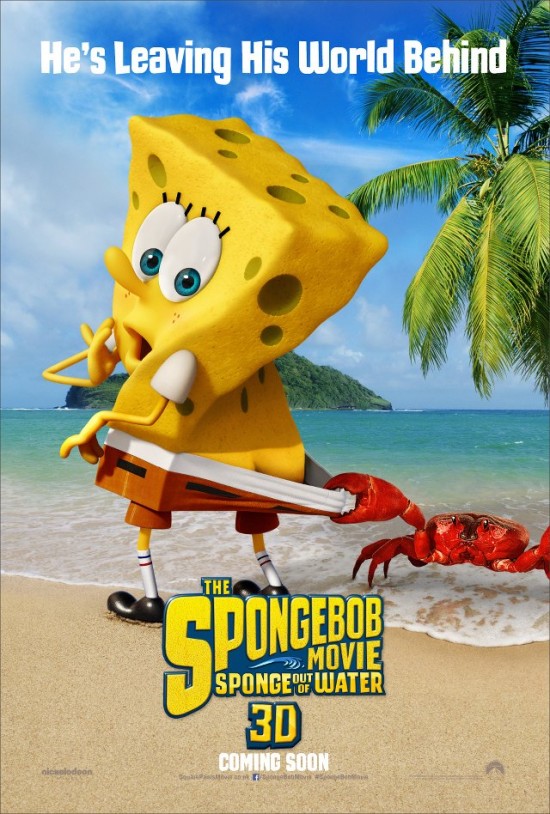 We'd ask why a sponge would be in need of sunblock, but then we'd also have to ask why a sponge is wearing pants and socks and shoes to begin with.
It's been established that SpongeBob doesn't fare too well on dry land, so hopefully it won't be too long before he can dive back into the ocean. The SpongeBob Movie: Sponge Out of Water opens February 6, 2015. [Coming Soon]
There's no evidence that an Alien 5 will ever happen, Sigourney Weaver's recent comments notwithstanding. But at least we have Alien: Isolation, the new game from Sega. A new trailer was released at E3 this week, and it looks like exciting stuff. The game follows Amanda Ripley as she investigates her mother Ellen's disappearance.
Alien: Isolation hits shelves October 7. [AICN]
A soaring sequel like How to Train Your Dragon 2 needs a soaring score to go with it. That's where John Powell comes in. The Oscar-nominated composer talks in a new featurette about writing the music for the new sequel, which he said had to be more "mature" but "not Lord of the Rings."
How to Train Your Dragon 2 flies into theaters this Friday, June 13. [Time]