Cool Stuff: DKNG's 'Icon' Solo Show, Places And Things You Love In Pop Culture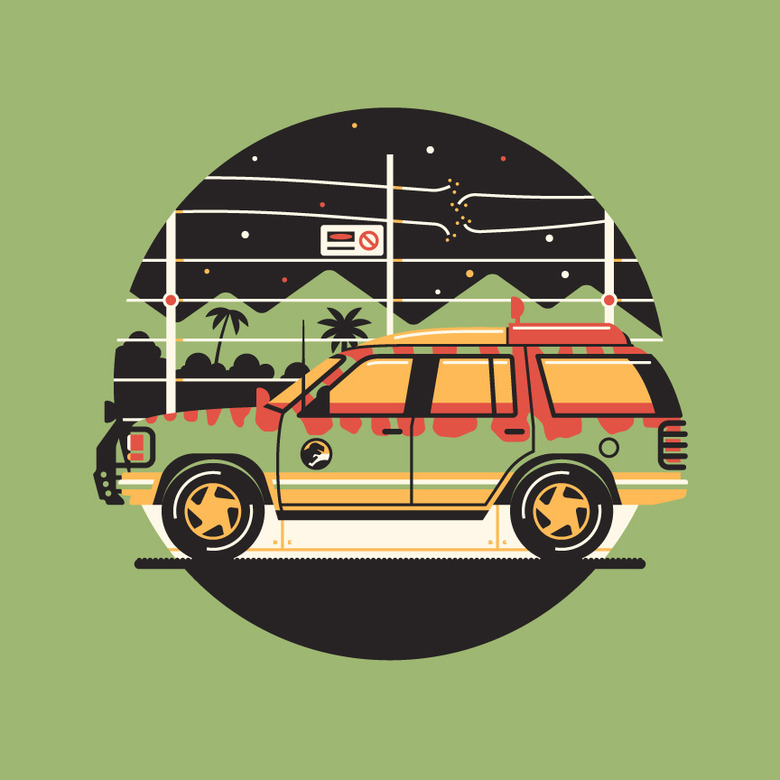 Every film has one. A signature prop, set, or location. Something that, in a single image, can represent the entire movie. The design team of Dan Kuhlken and Nathan Goldman, also known as DKNG, call these images "Icons," and they are the subject of their first ever solo show at Gallery 1988 West in Los Angeles opening Saturday June 14.
The show, called simply Icon, is comprised of 50 pieces featuring iconic places and things from some of your favorite movies and TV shows of all time. Things like Star Wars, Beavis and Butthead, The Shining, Back to the Future, Office Space, Groundhog Day, Arrested Development, Willy Wonka, Jurassic Park, the list goes on and on. Each piece is small – 12 inches square – and is of one thing that sums up an entire movie. And of course, each is done in DKNG's distinctive bright, geometric yet detailed style.
Below, check out our exclusive reveal of just eight of the 50 pieces you'll be able to see and purchase in person Saturday at Gallery 1988.
Here are just eight of the 50 images in the DKNG Icon show at Gallery 1988 West.
The show opens at 7 p.m. June 14 at Gallery 1988 West, Los Angeles CA and remains on display through July 5. Each piece is a 12 x 12 inch screen print in an edition of 100 and costs $25. Any remaining pieces will likely go on sale at www.gallery1988.com Sunday June 15. Follow @Galleries1988 for the announcement.
The show card (seen at the bottom) reveals even more pieces from the show and your imagination is sure to run wild with the infinite possibilities. Shows like this are my favorite because the artists – even though they are incredibly prolific – haven't done a solo show before and there will surely be a piece or two for each of us. A piece that speaks directly to our childhoods or passions and says, "I can't believe someone made a piece of art about that." I mean, for example, that Beavis and Butthead piece above. One of you probably saw that and got chills at its perfect mix of subtlety and familiarity. If you're a fan you get it and love it.
Which of these pieces are your favorite? Are there any films or shows in particular you want to see?