First 'Guardians Of The Galaxy' Character Poster Spotlights Groot And Rocket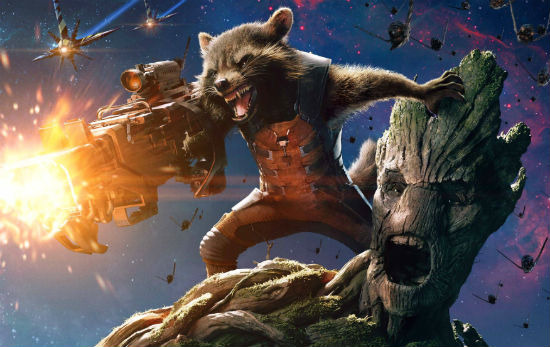 This week will bring a slew of Guardians of the Galaxy character posters and Marvel and Disney are starting things off right. The first one features the duo of Rocket Raccoon (voiced by Bradley Cooper) and Groot (voiced by Vin Diesel) in full on badass mode. The film, written and directed by James Gunn, opens August 1. Check out the first character poster below.
Thanks to Fandango for the poster.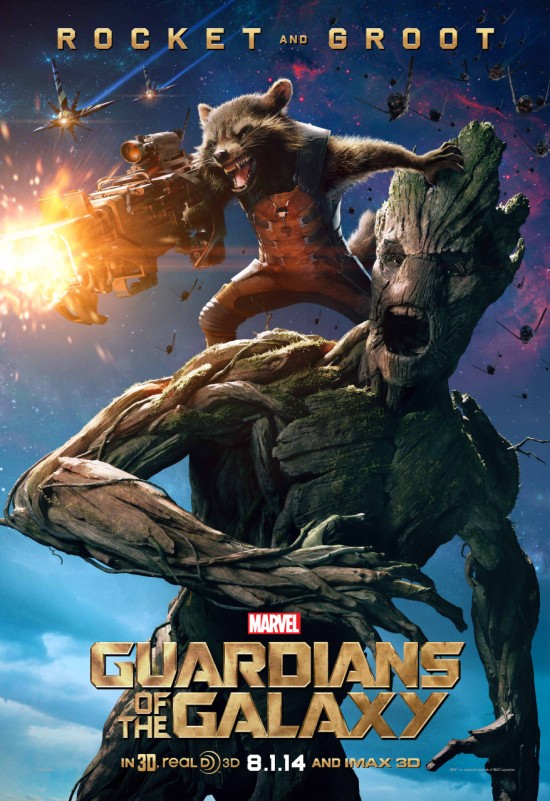 I mean – come on. Is it even possible to walk by this poster and not say, "I need to know more about this movie?" I think not. Whether or not that sentiment is positive or negative remains to be seen. Obviously film fans are a bit more adventurous and have a strong level of trust with Marvel Studios. However, will a normal filmgoer immediately want to see the movie with a talking raccoon and tree?
There will be most posters revealed all week: Gamora, Drax, Star-Lord, etc. So keep checking back for those.
From Marvel, the studio that brought you the global blockbuster franchises of Iron Man, Thor, Captain America and The Avengers, comes a new team—the Guardians of the Galaxy. An action-packed, epic space adventure, Marvel's "Guardians of the Galaxy" expands the Marvel Cinematic Universe into the cosmos, where brash adventurer Peter Quill finds himself the object of an unrelenting bounty hunt after stealing a mysterious orb coveted by Ronan, a powerful villain with ambitions that threaten the entire universe. To evade the ever-persistent Ronan, Quill is forced into an uneasy truce with a quartet of disparate misfits—Rocket, a gun-toting raccoon, Groot, a tree-like humanoid, the deadly and enigmatic Gamora and the revenge-driven Drax the Destroyer. But when Quill discovers the true power of the orb and the menace it poses to the cosmos, he must do his best to rally his ragtag rivals for a last, desperate stand—with the galaxy's fate in the balance.